Soueid: March 14 not interested in dialogue for the sake of dialogue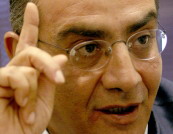 March 14 General Secretariat Coordinator Fares Soueid said on Wednesday that "March 14 is not interested in national dialogue just for the sake of dialogue and will not participate in the same old form of dialogue headed by President Michel Suleiman , because they tend to be a waste of time .
"If Hezbollah submits a genuine proposal on how they plan to make weapons exclusive to the state, March 14 will discuss the possibility of returning to the national dialogue," National News Agency quoted him as saying.
Soueid also said that "March 14 can resort to demonstrations if need be," adding that the alliance would "take all necessary steps if the state does not commit to its international obligations."
"We will not be afraid, we will not relent and we will take to the streets because we will respect laws and democratic principles."
According to Soueid, the contents of the Special Tribunal for Lebanon's (STL) indictment into the 2005 assassination of former Prime Minister Rafik Hariri will be revealed in its entirety in August.
He added that "March 14 does not favor dragging the Lebanese people into diplomatic and political problems."
During a live interview with MTV on Tuesday former PM Saad Hariri who is currently in Paris due to security reasons told the station that even if Hezbollah chief holds 300 press conferences , he will not be able to change the course of the Special tribunal for Lebanon.
He added : "We won the 2009 parliamentary elections although the use of arms changed the results of elections afterward."