Abu Faour: Jumblatt won't give up on truth behind Hariri's murder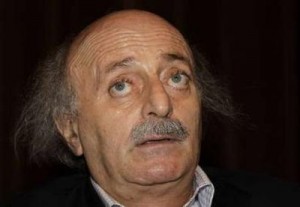 Progressive Socialist Party leader MP Walid Jumblatt will not abandon the efforts to uncover the truth behind the 2005 assassination of former Prime Minister Rafik Hariri, Social Affairs Minister Wael Abu Faour –who represents the PSP in the cabinet said on Saturday, but added that Jumblatt is "concerned about civil peace" in Lebanon.
"Jumblatt was and is still one of the fierce supporters of identifying Hariri's killers and uncovering the truth," Abu Faour told Voice of Lebanon .
However, he said that Jumblatt " is concerned that civil peace might be affected," a reference to the Special Tribunal for Lebanon (STL) that indicted last week four members of the Iranian and Syrian -backed Hezbollah for killing Hariri.
Asked about Jumblatt's relations with former PM Saad Hariri, is Rafik Hariri's son –Abu Faour said that "no one will be able to harm these relations , although many parties attempt to do so."
No Body
March 14 General Coordinator Fares Soueid said on Saturday that "Jumblatt has turned into a nobody after he split from March 14 coalition and allied with the Hezbollah-led March 8 coalition"
"Jumblatt has shifted from being a leader in March 14 into a nobody in parliament," Soueid told LBC TV
"I think that Jumblatt has surrendered and revealed all his cards to Hezbollah in return for ensuring the protection of his people ," Soueid added.
Soueid also said that Prime Minister Najib Mikati has become "a nobody instead of remaining a respectful Sunni figure," after he ran for the premiership of the government dominated by March 8.
Jumblatt who was elected by March 14 voters during the 2009 elections defected from the March 14 (three months after the Der Spiegel report of May 2009 revealed that Hezbollah was behind Hariri's murder) for fear over a Shiite -Sunni strife if Hezbollah members were indicted by the STL. But the Sunnis of Lebanon have proved him wrong so far . Not one shot was heard , not one tire was burnt and not one road was blocked in the mainly Sunni areas of Beirut, Tripoli or Sidon and Lebanon maintained its calm since the indictment was announced .
STL
The Special Tribunal for Lebanon issued the indictments in the assassination of Lebanon's former PM Hariri on June 30. An STL delegation met with Lebanon's state prosecutor Said Mirza and handed him a copy of the Lebanon portion of the indictment and the arrest warrants. Two of the suspects Mustafa Badreddine and Salim Ayyash are reportedly senior members of the Iranian and Syrian-backed Hezbollah while the other two Hassan Aneissy, also known as Hassan Issa, and Assad Sabra played a supporting role in the execution of the assassination
Hezbollah Secretary General Sayyed Hassan Nasrallah denounced on several occasions the court as a conspiracy by the U.S. and Israel and said last year that the group "will cut off the hand" of anyone who tries to arrest its party members linked to the February 14, 2005 bombing that killed Hariri and 22 others.
Lebanon has 30 days to find and arrest the suspects but Hezbollah chief Sayyed Hasan Nasrallah said on July 2 that the party would not cooperate with the tribunal.
"No Lebanese government will be able to carry out any arrests whether in 30 days, 30 years or even 300 years."
"We reject the Special Tribunal for Lebanon along with each and every void accusation it issues, which to us is the equivalent of an attack against Hezbollah," Nasrallah added in his hour-long speech.
Nasrallah admitted all the four suspects are Hezbollah members:
"The suspects named in the indictment are brothers who have an honorable history in resisting Israeli occupation." He said
The whereabouts of the four remain unknown but some reports indicated that the two prime suspects in the assassination already fled to Iran.