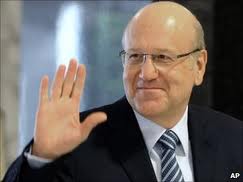 Prime Minister Najib Mikati headed with his family to Italy on Friday  for  vacation and is expected to return  on Tuesday,  al-Liwaa newspaper reported on Saturday.
Prior to departing  criticized  the  March 14-led opposition campaigns against him,  calling  it "pointless" and only aimed at "preventing him from finding effective solutions to the major problems that the country is suffering from."
Mikati's  visitors    quoted  him as saying that    March 14 forces  are attempting "to paralyze him and paralyze the cabinet to achieve their political gains and return to power, "  As Safir newspaper reported
"They want me to enter into a daily dispute with them. I won't do it … I know that they won't leave me alone but I won't respond ,"  Mikati reportedly  told his visitors.
Mikati's sources also told al-Joumhouria newspaper that the cabinet needs between six to 12 months to  start showing  some positive  results
"There is a real intention to introduce reform," they were quoted as saying.
Mikati's government secured the vote of confidence with 68 out of a possible 128 votes last Thursday.
"The government confirms it will continue the path of the  Special Tribunal for Lebanon ( STL)  … and continue to cooperate in this regard as per the U.N. Security Council Resolution which set up the tribunal to see justice served," Mikati said ahead of the vote.
But March 14 alliance doubt Mikati's authority to be able to make any decisions  over the STL issue .
Future bloc MP Samir al-Jisr said on Saturday that  Mikati does not have the authority to take any decision regarding the UN-backed  STL , which is probing former PM Rafik Hariri's 2005 assassination.
"Mikati does not want to confront the international community, but he does not have  the power  to make any decisions," Jisr told   Voice of Lebanon   , in a reference to Hezbollah's alleged control of the government.
The Iranian and Syrian-backed Hezbollah and its allies deliberately brought down PM Saad Hariri's government in January in anticipation of the indictment in the 2005 assassination of his his father.