STL: Bellemare will only pursue credible and convincing evidence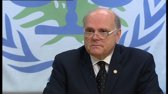 In an interview with Lebanese newspaper Sada al-Balad to be published Saturday, Gregory Townsend, acting spokesperson for the Office of Daniel Bellemare prosecutor of Special Tribunal for Lebanon said that
the Prosecutor "will not engage in a public debate in the media about the credibility of his investigation or of the investigative process." He added :Bellemare is pursuing all the highly credible investigative threads and he will only depend on credible and convincing evidence"
Asked about Hezbollah's statements that Bellemare ignored questions raised by the party's secretary-general regarding alleged ties between some STL investigators and Western intelligence agencies and the 97 computers transferred to Israel, Townsend said: "If someone reads the press release issued on July 4, they will in fact find that the prosecutor had tackled the issues mentioned by Sayyed Nasrallah, despite all the attempts to prove the opposite."
The acting spokesperson reiterated that "the proper forum to challenge the investigation or the evidence gathered as a result, is in open court during a trial that will fully comply with international standards."
In a related development Hezbollah bloc MP Nawwaf Moussawi said on Friday that the STL investigators set up an office in the southern Beirut suburb of Dahiyeh ( a Hezbollah's stronghold) during their investigation into former Prime Minister Rafik Hariri's 2005 assassination.
"This office was used during the investigations," Moussawi told New TV.
The Hezbollah MP added that the STL office was being used "to meet with many witnesses," adding that the investigators were coming to the area "for months."
He did not elaborate any further on this issue but revealed that the names of the four suspects indicted last week by the tribunal "were not mentioned during the past investigations."
The Special Tribunal for Lebanon issued the indictments in the assassination of Lebanon's former PM Rafik Hariri on June 30. An STL delegation met with Lebanon's state prosecutor Said Mirza and handed him a copy of the Lebanon portion of the indictment and the arrest warrants. Two of the suspects Mustafa Badreddine and Salim Ayyash are reportedly senior members of the Iranian and Syrian-backed Hezbollah while the other two Hassan Aneissy, also known as Hassan Issa, and Assad Sabra played a supporting role in the execution of the assassination
Hezbollah Secretary General Sayyed Hassan Nasrallah denounced on several occasions the court as a conspiracy by the U.S. and Israel and said last year that the group "will cut off the hand" of anyone who tries to arrest its party members linked to the 2005 bombing that killed Hariri and 22 others.
Lebanon has 30 days to find and arrest the suspects but Hezbollah chief Sayyed Hasan Nasrallah said on July 2 that the party would not cooperate with the tribunal.
"No Lebanese government will be able to carry out any arrests whether in 30 days, 30 years or even 300 years."
"We reject the Special Tribunal for Lebanon along with each and every void accusation it issues, which to us is the equivalent of an attack against Hezbollah," Nasrallah added in his hour-long speech.
Nasrallah admitted all the four suspects are Hezbollah members:
"The suspects named in the indictment are brothers who have an honorable history in resisting Israeli occupation." He said
The whereabouts of the four remain unknown but some reports indicated that the two prime suspects in the assassination already fled to Iran.