March 14 MPs call on MIkati to quit
March 14 MP Mohammad Hajjar said on Wednesday that the primary mission of the newly-formed government is to confront the Special Tribunal for Lebanon, a UN-backed court investigating the 2005 murder of former Prime Minister Rafik Hariri, calling on the cabinet to quit adding that he will not grant it his vote of confidence.
"We call on this government to resign , and we will not grant it our vote of confidence," Hajjar said Wednesday morning during the second day of parliamentary session aimed to debate the ministerial policy statement of newly-formed government of Prime Minister Najib Mikati's cabinet.
Hajjar said March 8 coalition's "coup undermined the people's voted and resorted to the use of weapons that are still controlling the country."
"How can we trust a government that has a prime minister who pretends to be impartial at a time when impartiality no longer exists, and when impartiality has yielded to weapons and become a spearhead to evade justice?" he asked.
Similarly March 14 MP Jean Oghassabian told Miqati on Wednesday that he should quit his post but if he decides to stay "history will have no mercy on you."
The international tribunal isn't an enemy, he said in his address at parliament during the second day of discussions of Miqati's policy statement.
"We believe in partnership and pluralism," said the lawmaker.
"I reject that weapons be used in everyday politics," Oghassabian told parliament, saying he also refuses a culture of fear in political life. He announced that he will not grant the cabinet his vote of confidence.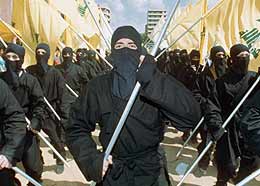 March 14 MP Jamal al-Jarrah told parliament that Lebanon is in need for "white hearts and not black shirts," in reference to Hezbollah.
He accused Miqati's cabinet of preparing for civil war through the current policy statement.
He said : "Former PM Rafik Hariri was really killed, not "in principle."
"Lebanon was liberated from hegemony so don't restore it. The STL was actually formed so don't abandon it as you are actually paving the way for a new civil war," he said.
STL confirmed the indictments in the assassination of Lebanon's former PM Hariri on Thursday. An STL delegation met with Lebanon's state prosecutor Said Mirza on Thursday and handed him a copy of the Lebanon portion of the indictment and the arrest warrants. Two of the suspects Mustafa Badreddine and Salim Ayyash are reportedly senior members of the Iranian and Syrian-backed Hezbollah while the other two Hezbollah members Hassan Aneissy, also known as Hassan Issa, and Assad Sabra played a supporting role in the execution of the assassination.
Lebanon has 30 days to find and arrest the suspects but Hezbollah chief Sayyed Hasan Nasrallah said Saturday that the party would not cooperate with the tribunal.
"No Lebanese government will be able to carry out any arrests whether in 30 days, 30 years or even 300 years."
"We reject the Special Tribunal for Lebanon along with each and every void accusation it issues, which to us is the equivalent of an attack against Hezbollah," Nasrallah added in his hour-long speech.
Nasrallah admitted all the four suspects are Hezbollah members:
"The suspects named in the indictment are brothers who have an honorable history in resisting Israeli occupation." He said
The whereabouts of the four remain unknown but some reports indicated that the two prime suspects in the assassination already fled to Iran.
Professor Ghassan Karam commented about Nasrallah's defiance in an article in Ya Libnan: " Nasrallah has acted as judge, jury and executioner. He has determined that his people are not guilty and that no one should dream of arresting any of them".
"My only advice to those charged is that they should consult a lawyer as soon as possible…Now is the time for defense." Francois Roux, the head of the Defense Office of the Special Tribunal for Lebanon said in addressing the four Hezbollah members who were indicted in the 2005 assassination of former Lebanese PM Rafik Hariri
5478