Hezbollah MPs couldn't take the heat, walk out of parliament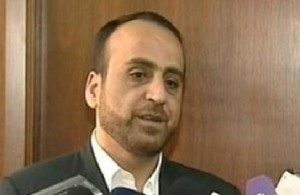 Hezbollah's bloc MPs walked out on Wednesday afternoon en masse during the second day of parliamentary session aimed to debate the ministerial policy statement of newly-formed government, as Hezbollah MP Nawwaf al-Moussawi slammed as "spy" his colleague MP Nohad al-Mashnouq, a member of the Future Movement bloc.
The MPs walked out while Phalange bloc MP Nadim Gemayel was addressing parliament.
Moussawi interrupted the speech of Mashnouq, lashing out at his colleague.
"You are an intelligence agent and your price is well-known," Moussawi said, addressing Mashnouq.
Moussawi's accusation came in response to Mashnouq's remarks on the arrest warrants issued recently by the Special Tribunal for Lebanon for four Hizbullah members in the case of ex-PM Rafik Hariri's 2005 assassination.
"Aren't these accused resistance fighters members of the same party that has recently discovered (CIA) agents among its ranks? Everyone errs, but this is a sin," Mashnouq said, prompting the angry reaction by Moussawi.
Mashnouq said that the government was formed "thanks to the use of arms."
"If the formation was not directed by the supreme leader of the arms" the government would not have been created, he added, in reference to Hezbollah Secretary General Sayyed Hassan Nasrallah.
Mashnouq also slammed Prime Minister Najib Mikati, saying the latter abandoned moderation to become part of the March 8 coalition.
He added that whenever one of his party's figures speaks, they are accused "of causing strife."
Mashnouq's speech was also interrupted by Hezbollah's Agriculture Minister Hussein Hajj Hassan and MP Ali Ammar.
"These are major insults, we cannot remain silent," Hajj Hassan shouted.
The heated exchange prompted the intervention of Speaker Nabih Berri, who told Mashnouq that the session was dedicated to discussing the ministerial Policy Statement rather than attacking a certain political party.
The speech of Phalange Party bloc MP Samer Saade also drew a response from Moussawi.
"How do you want us to grant confidence to a government that does not want to hang those who committed the (Hariri) crime and are being protected by a party that does not want to hand them over, not even after 300 years," said Saade, prompting Moussawi to say: "Let them talk, we will not listen."
"The same as we had rejected to live under the authority of Palestinian arms … we will not be frightened today from (Hezbollah chief) Sayyed (Hassan Nasrallah), nor from his weapons and rockets," Saade added, drawing angry responses from several Hezbollah ministers and MPs.
Phalange bloc MP Nadim Gemayel said that Prime Minister Mikati's government will "assassinate the Special Tribunal for Lebanon and kill former PM Rafik Hariri a second time."
"We will not allow this cabinet of armed groups and Syrian regime infiltrators to assassinate the tribunal," he added.
Gemayel added that the use of arms brought Mikati to the premiership.
The MP also said that an armed group is "imposing its will on the army and [controlling] the whole country."