Jumblatt: Only free people can Liberate oppressed Palestinians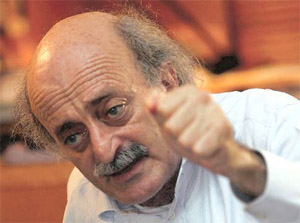 Progressive Socialist Party leader Walid Jumblatt headed on Saturday to an undisclosed location after instructing his representatives in the cabinet not to accept any "explosive" policy statement draft, the Kuwaiti al-Anbaa daily reported.
Jumblatt reportedly instructed the ministers not to agree to a draft statement that "would lead to strife and confessional struggles " al-Anbaa quoted sources close to him as saying.
Jumblatt sources said that Jumblatt would accept the clause on the international tribunal of the former cabinet's policy statement.
"If the majority is not able to control the situation and protect stability, then it would lose," he reportedly told his ministers.
Mission
According to well informed sources Jumblatt headed to Turkey on a reconciliation mission. He was reportedly sent by Syrian president Bashar al Assad with the aim of reducing tension between the two countries.
Tension between Turkey and Syria has been worsening as thousands of refugees fled across the border
Officials in Ankara were reportedly watching closely as Syrian forces deployed in a village close to the border, Khirbet al-Jouz, after Turkey had flatly rejected an appeal from Damascus to moderate its increasingly angry public comments about the crisis.
Recep Tayyip Erdogan, Turkey's prime minister, has attacked the repression as "savagery" and urged Assad to sack its military mastermind, his brother Maher, and implement genuine reforms in the spirit of the "Arab spring".
According to the sources Jumblatt's mission was decided during his last visit to Damascus when he brought the green light from Assad to the Hezbollah-led new majority to form the cabinet .
Only free people can Liberate oppressed Palestinians
Jumblatt, during a the ceremony of the American University Alumni Association – at Bristol hotel on Monday commented on the brutal crackdowns in some of the Arab countries against the protesters who are demanding freedom : "We inherited in the Arab world from here and there a lot of fascism techniques and practices.The 'Captive Mind' led us to believe that the road to Jerusalem passes through Jounieh.
The question is now why the Arab people are revolting and here is the answer to the captive minds. The Arab citizen , who does not have except a shirt to wear on his chest is going to prove that only free people can liberate oppressed people in occupied Palestine or elsewhere.