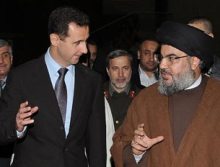 Arabs have reacted sharply to the speech on Friday by Syed Hassan Nasrallah, leader of the Lebanese resistance movement Hezbollah, with people in Qatar saying the charismatic Shia leader has lost his credibility because of his stand on the pro-reform protests in Bahrain and Syria.
In his speech, telecast by Hezbollah-owned television channel Al Manar, Nasrallah gave a clean chit to the Syrian government, which has been using military force against mass protests in the country, while at the same time criticising Bahrain for using force against protesters calling for reforms.
"The Syrian regime is the only one in the Arab world resisting Israel. Toppling this regime will mean serving the interests of the US and Israel," Nasrallah reportedly said in his speech.
He expressed confidence in the reforms announced by Syrian President Bashar Al Assad, saying the regime was serious about its words.
On the other hand, Nasrallah said reforms in Bahrain would not work "because the government is responding to calls for reforms with life sentences."
"Yes, Nasralllah's image has deteriorated in the Arab world since long. He did great damage to Lebanon, and recent reports about Hezbollah spies in Egypt have further damaged his reputation," Qatari writer and intellectual Dr Abdul Hameed Al Ansari told The Peninsula, when asked for his comments on Nasrallah's speech.
"While all the people are supporting the Arab Spring, Nasrallah is backing the oppressive Syrian regime. He is taking a contradictory stance on Arab revolutions," he added.
He said the argument that Syria had been resisting Israel was not true. "Syria has not fired a single bullet against Israel for many years. The Golan Heights are occupied by Israel since 1973, but Syria is not fighting to recapture this territory," said Al Ansari.
"Many analysts believe there is mutual understanding between Syria and Israel. Israel is worried about a possible overthrow of the Syrian regime," he noted.
He said reforms in Syria could not be implemented because President Assad was surrounded by an old guard that would resist any serious reforms.
On the other hand, the ruler of Bahrain is serious about calling for dialogue, he said. "Why didn't the opposition accept this call for reform," asked Al Ansari.
"We back the Shia demands for education and jobs, but they want foreign intervention in Bahrain's internal affairs. This was the best opportunity for reforms in Bahrain," he added.
Prominent Qatari writer Dr Mohammed Al Misfir agreed with Al Ansari.
"Hassan Nasrallah is no more a hero in the Arab world. On the one hand he is defending the people protesting in Bahrain, but on the other he is ignoring the demands of people in Syria and Iraq," said Al Misfir.
He said Nasrallah had been celebrated in the Arab world for his war against Israel in southern Lebanon.
"Nasrallah divided the Lebanese society between the south and the north on sectarian grounds," said Al Misfir. In Tripoli, for instance, there is a rift between Sunnis and Alawis supporting Syria.
"Nasrallah is now considered by many people as a sectarian leader, not as a revolutionary… We want him to go back to his former role as a Lebanese leader," he added.
He said Nasrallah wanted to reward Syria for its support for Lebanon in the 1982, 2000 and 2006 wars against Israel.
"But when the Syrian regime oppresses its own people and denies them their political rights we should oppose it," said Al Misfir.