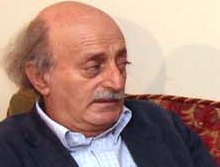 In a clear response to the attacks against the Future Movement by MP Michel Aoun , National Front Struggle bloc leader MP Walid Jumblatt said on Tuesday that his parliamentary bloc will not engage in any "vengeful actions," nor will it cover up for such behavior.
"Our participation in the cabinet was based on that," the National News Agency quoted Jumblatt as saying.
However, he added that the bloc agreed to holding those who broke the law accountable but based on the "adopted procedure."
Jumblatt also said that parties, which are part of the new cabinet, can guarantee their success by avoiding any issue that raises political and media debates, adding that controversies only lead to more tension.
"Let us give the new cabinet a chance to restore confidence [in the state]. Let us [quit] debates and accusations and get to work."
Aoun said during an annual Free Patriotic Movement (FPM) dinner in Kesrouan on Friday evening that the plan of the former PM – who has been out of the country for almost three months – for Lebanon is over and a "one-way ticket" out was booked for him.
Aoun on Tuesday also accused the March 14 alliance of lacking sense of humor, saying his statement pertaining to Hariri did not mean that he hopes "God will take away Hariri's life."
" The March 14 alliance is fierce but disrespectful," said Aoun following his bloc's weekly meeting.
"They do not appreciate a sense of humor. Since they rejected the 'one-way ticket' out statement, we will issue them a 'one-way ticket' in. There is a big section of Roumieh Prison that is being renovated and it fits a lot of people . God willing some members of the March 14 coalition will be in it."
Mikati
Similarly PM Nagib Mikati criticized Aoun's behavior .
He said in response to Aoun's statements : "His speech surprised me specially coming from a man like General Aoun who is supposed to be responsible". He added that" no one should go beyond the bounds of decency and respect and we all should remain within the natural political framework in our discussions especially in these difficult and sensitive times that require everyone's national responsibility."
Hatred
The Future parliamentary bloc said in a statement following its weekly meeting on Tuesday that statements of some Change and Reform bloc MPs, including its leader Michel Aoun,reveal how much hatred the bloc members possess toward others.