Future bloc says statements by Aoun, allies reveal hatred, sick minds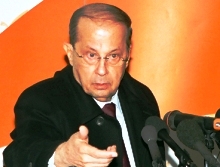 The Future parliamentary said in a statement following its weekly meeting on Tuesday that statements of some Change and Reform bloc MPs, including its leader Michel Aoun,reveal how much hatred the bloc members possess toward others.
"Their statements reveal the vengeful intents that aim to cancel others. Such a policy was mastered by Hezbollah, and is now being resumed by Aoun ," the statement said
Such "vengeful" logic that Aoun is proud of adopting will have negative repercussions on Lebanon if it continues, the bloc added.
"The policy of cancelling the other will only lead to more losses," the statement also said, adding that the former Prime Minister Rafik Hariri's heritage is "deep-rooted" and "sick minds and grudges" will not be able to uproot it.
The bloc also commented on Labor Minister Charbel Nahhas' Monday statement that Ogero's Director General Abdel Monem Youssef's "days in the Lebanese state are numbered, unless he spends his time in Lebanese jails."
"Nahhas' statement is an example of the vengeful manner we warned of when the cabinet was formed," the bloc said.
It added that Nahhas does not have the right to judge any employee, especially if the employee is not related to the ministry he heads.
The statement added that Prime Minister Najib Mikati and President Michel Suleiman should seriously address the labor minister's statement.
Aoun said during an annual Free Patriotic Movement (FPM) dinner in Kesrouan on Friday evening that the plan of the former PM – who has been out of the country for almost three months – for Lebanon is over and a "one-way ticket" out was booked for him.
Aoun on Tuesday also accused the March 14 alliance of lacking sense of humor, saying his statement pertaining to Hariri did not mean that he hopes "God will take away Hariri's life."
" The March 14 alliance is fierce but disrespectful," said Aoun following his bloc's weekly meeting.
"They do not appreciate a sense of humor. Since they rejected the 'one-way ticket' out statement, we will issue them a 'one-way ticket' in. There is a big section of Roumieh Prison that is being renovated and it fits a lot of people . God willing some members of the March 14 coalition will be in it."
Aoun also slammed US Assistant Secretary of State for Near Eastern Affairs Jeffrey Feltman, saying the US envoy is a "weird creature," who – according to Aoun – was used to forming the cabinet in Lebanon.
"This is the first time a cabinet is formed against Feltman's will," he said, adding that Feltman has to be more respectful.
The MP said that the newly-formed cabinet's Ministerial Statement, which has yet to be issued, will not target anyone.
"We want justice, and we do not want forgery. We reject decisions that are against international law and UN legitimacy."
Aoun also called for waiting for the indictment of the Special Tribunal for Lebanon, which is investigating the 2005 assassination of former PM Rafik Hariri and will reportedly indict members of the Iranian- Syrian-back Shiite group, Hezbollah.
The FPM leader addressed the ongoing events in Syria, reiterating Syrian Bashar al-Assad's statement that there is a conspiracy in the country.
"No one denied that reforms must be carried out in Syria," said Aoun, adding, "Assad developed a thorough plan."
Assad said Monday that dialogue could lead to a new constitution and even the end of his Baath Party's monopoly on power but refused to reform Syria under "chaos."
More than 1,400 civilians have been killed and more than 10,000 people have been arrested, according to Syrian rights groups.
Mikati criticizes Aoun's statements
Prime Minister Najib Mikati said in response to Aoun's statements : "His speech surprised me specially coming from a man like General Aoun who is supposed to be responsible". He added that" no one should go beyond the bounds of decency and respect and we all should remain within the natural political framework in our discussions especially in these difficult and sensitive times that require everyone's national responsibility."