Arslan apologizes to Mikati over verbal attack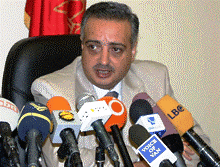 Lebanese Democratic Party leader MP Talal Arslan, who resigned on Monday from the newly formed cabinet that is headed by PM Najib Mikati's , apologized on Sunday for verbally attacking the new premier.
"I would like to apologize for making angry statements that personally insulted the prime minister," Arslan was quoted by National News Agency as saying.
Arslan said that he made "a mistake that conflicts with his ethical behavior" .
Arslan resigned from the newly-formed cabinet shortly following the announcement of its formation on Monday after he found out that he was not assigned a key cabinet portfolio .
Arslan announced his resignation during a press conference hours following the announcement of the cabinet formation and accused Mikati of lying and causing a rift between him , MP Walid Jumblatt and MP Michel Aoun.
He said "I cannot sit next to a man like Mikati in the same cabinet "
He said "Mikati lied to all the Lebanese and caused rifts between many people , he thinks he is the smartest and this is something we cannot accept". He added :" I have lost all confidence in Mikati and his abilities to seriously run the country".
Arslan was always insisting on being allocated a ministerial portfolio , but instead he was assigned a ministry of state . He accused Mikati of discriminating against the Druze community.
Ministries of state are usually used as a filler to complete the lineup.
According to Monday morning reports Mikati praised Arslan for apologizing.
Also on Monday As Safir newspaper reported that discussions aimed at returning Arslan to the cabinet are ongoing and an announcement on this could come as early as Monday