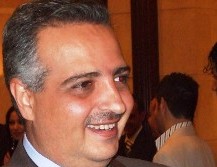 Lebanese Democratic Party leader MP Talal Arslan told As Safir newspaper in remarks published on Thursday that the dispute between President Michel Suleiman and Free Patriotic Movement leader MP Michel Aoun is not the only reason behind the delay of government formation.
He reiterated his rejection of State Ministerial position and repeatedly demanded a portfolio as a condition for his participation in the cabinet.
Arslan said that the meeting that was held between March 8 officials at the parliament on Wednesday focused on solving the obstacles that are still delaying the cabinet formation.
Prior to the parliament session , a meeting was held on Wednesday that included Speaker Nabih Berri, PM designate Najib Miqati, Free Patriotic Movement leader Michel Aoun, Progressive Socialist Party leader MP Walid Jumblatt, head of Hezbollah's parliamentary bloc MP Mohammed Raad, Marada Movement leader MP Suleiman Franjieh, Arslan and President of the Syrian Social National Party Assaad Hardan.
The other obstacle that is delaying the formation of the cabinet according to Arslan is the Sunni opposition representative. Hezbollah is reportedly insisting on Faisal Karami the son of former PM Omar Karami , a political rival of Mikati in the Tripoli district