Arab league worried about the crisis in Syria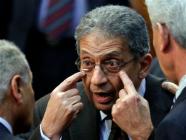 Outgoing Arab League chief Amr Mussa said on Saturday the Arab world was worried about events in Syria, where President Bashar al-Assad's regime is pursuing a deadly crackdown on anti-government protests.
"There is a worry in the Arab world and in the region concerning the events in Syria," Mussa told reporters after a meeting in the Egyptian capital focusing on events in Libya.
The Syrian crisis is the subject of "many contacts" between leaders across the region "to exchange points of view," he added.
He dismissed the idea that his remarks constituted interference in Syrian affairs, saying that he was only expressing "concern about an important country," and said "it's normal that we should be worried."
Mussa will soon step down as chief of the Arab League to be succeeded by current Egyptian Foreign Minister Nabil al-Arabi, who was elected to the post on May 15.
Mussa has decided to contest the top job in his native Egypt, in the first presidential election since Hosni Mubarak was overthrown in February following 18 days of popular protests.
News24