Syrian opposition dismisses Makhlouf 's move to charity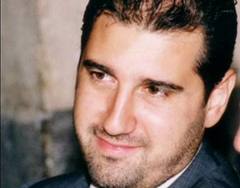 Tycoon Rami Makhlouf, who says he is quitting the Syrian business scene, owes his fortune and his role as a hate figure for protesters to his cousin President Bashar al-Assad.
Just three months ago it would have been unthinkable to have even criticized him and Assad told businessmen last year, before the uprising against him: "I wish Syria had 10 Rami Makhloufs."
Yet by March, his name was already being uttered by demonstrators trying to burn down the premises of his telecoms operation while chanting: "Go away Makhlouf. We don't want thieves."
The announcement on state television that he is taking a lesser business role and moving into charity work will be no doubt be widely seen as aimed at helping the ruling family survive the turmoil — even though campaigners scoffed at the move.
A close friend and confidant of Assad, Makhkouf controls companies with outright monopolies or semi monopolies in duty free, airlines, telecoms, real estate, oil, construction and import businesses.
Aref Dalila, a leading economist, was jailed for eight years after he criticized the state for awarding a cellphone contract to Makhlouf that created Syriatel, the country's largest mobile phone operator.
The tycoon, who has been under U.S. sanctions since 2008 for what Washington calls public corruption and was put under EU sanctions last month, has repeatedly said he is a legitimate businessman whose firms provide jobs for thousands of Syrians.
PUBLIC FIGURE
Makhlouf belongs to Assad's Alawite minority sect, an offshoot of Shi'ite Islam, which rose to dominate political system in majority Sunni Syria after controlling the army following a coup that brought the Baath Party to power in a 1963.
Alawites influence have spread to business, undermining a Sunni merchant establishment that had traditionally dominated commerce — although Makhlouf sought to placate Sunnis by bringing them into a holding company he set up five years ago.
He is seen by many protesters as a front for more powerful family members, including Assad himself.
He also began taking a more political role, appearing on television to promote ties with Turkey and participating in meetings with Iraqi officials to improve relations, diplomats in the Syrian capital said.
His father Mohammad, a brother of Assad's mother Anissa, also amassed a fortune under the rule of Assad's father, the late Hafez al-Assad, and still plays a major role in managing the Makhlouf fortune, businessmen and diplomats say.
Before the uprising, Makhlouf had been changing the structure of the his companies by inviting Syrian and gulf shareholders, they added.
"Makhlouf has been trying to improve his image and portray himself as a regional businessman," one of the sources said.
A leading opposition figure dismissed the move to charity as a cosmetic attempt to placate a public angry at the widespread corruption he said Makhlouf epitomized and doubted Makhlouf would lose his position as one of the country's power elite.
"The news that Makhlouf will be donating to the Syrian people money he obtained by corruption and from monopolies granted to him because of his family links is comic," Walid al-Bunni told Reuters by phone from Damascus.
"The announcement would have had some credibility if Makhlouf had said he returned the billions of dollars he had amassed to the treasury. The Syrian people may then think of forgiving him."
One businessman said that Makhlouf's rise began with the death of Assad's brother Basil in car accident in the 1990s. The death of Basil, who was being groomed to succeed his father, brought in Bashar to politics.
"The difference between Bashar and Basil is that Basil was not under the influence of his cousins," the businessman said.
Makhlouf told the New York Times in an interview last month that Syria's ruling family will fight protesters "to the end" and hinted that Israel's stability could be threatened if Assad was toppled.
In a rare public statement, Syrian authorities said that Makhlouf was a private citizen and that his views did not represent the Syrian state.