Bin Laden's No. 2, Zawahri, is Al Qaeda's new leader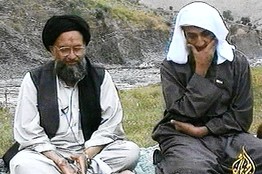 More than six weeks after Osama bin Laden was killed in an American commando raid, Ayman al-Zawahri, Al Qaeda's No. 2, is assuming the leadership of the international terrorist organization, according to a statement posted online Thursday.
Mr. Zawahri, an Egyptian who long served as second in command to Bin Laden, had been expected to inherit leadership of the terrorist organization, though the delay in announcing his succession led some counterterrorism analysts to see signs of a power struggle at the top of Al Qaeda following Bin Laden's death in Abbottabad, Pakistan, on May 2.
"The general command of Al Qaeda, after the completion of consultation, announces that Sheikh Ayman al-Zawahri has assumed the responsibility of the leadership of the group," Al Qaeda said in a statement presented by the Al Fajr Media Center, the terror network's online voice, and posted on jihadist Internet forums.
The statement did not provide details about the group's decision, falling back on generalities. "We seek with the aid of God to call for the religion of truth and incite the ummah to prepare and fight," the statement read, referring to the global community of Muslims.
Trained as a doctor, Mr. Zawahri, 59, has been described as the operational leader of the group. But he is seen as abrasive to fellow militants, and lacking Bin Laden's charismatic appeal to Islamists and ability to command their loyalty, leading to questions over whether he would be able to continue drawing jihadist recruits. In addition, his new role may widen the longstanding split in Al Qaeda between his Egyptian contingent and militants of other nationalities.
"We'll see how he fares in the new role and deals with a younger generation of extremists, some of whom don't like his leadership and management style," said one American counterterrorism official.
Counterterrorism officials will now be watching for attacks designed by Mr. Zawahri and his circle to convey the continuing strength of the terrorist network.
The whereabouts of Mr. Zawahri are unknown. In the past, some reports pointed to his presence in the border region between Afghanistan and Pakistan, an area once thought to be the location of Bin Laden's hideout. However, the discovery of Bin Laden in Abbottabad, a large city near the Pakistani capital, called those reports into question. The F.B.I. offers $25 million for information leading directly to his apprehension or conviction.
The announcement of Mr. Zawahri's ascension comes a week after the release of a video that was his first public communication after Bin Laden's death. He eulogized the Qaeda leader, who he said had "terrified America in his life" and "will continue to terrify it after his death." Mr. Zawahri vowed to continue fighting the United States and others to "expel the invaders from the land of Islam."
As in other recent video statements, he sought to connect Al Qaeda's mission to the wave of uprisings that have swept autocratic rulers from power during the so-called Arab Spring. He praised the revolts in Tunisia, Egypt, Libya and Syria, and called on Pakistanis to rise up against their leaders.
Referring to Yemen, Mr. Zawahri said that he hoped that the uprising there would eventually expel "the Americans and their henchmen." Even before that country's current political crisis, militants connected to Al Qaeda had gained a foothold in Yemen, an American ally in fighting terrorism.
Born in June 1951, Mr. Zawahri has a long history of radicalism. He was first arrested at age 15 for joining the outlawed Muslim Brotherhood, the Arab world's oldest Islamic political organization. Later he found that organization too tame and created the Egyptian Islamic Jihad, which sought to overthrow the Egyptian government.
Around 1998, Mr. Zawahri joined with Bin Laden, merging his jihadist group with Al Qaeda and joining a call for worldwide attacks on American targets. He was indicted in connection with the Aug. 7, 1998, bombings of the United States Embassies in Dar es Salaam, Tanzania, and Nairobi, Kenya.