Gadhafi's offer to hold elections rejected by Rebels, US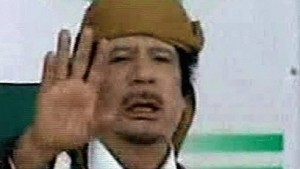 Colonel Moammar Gadhafi's son said the strongman was willing to hold free elections and step aside if he loses, while Russia and China urged the North Atlantic Treaty Organization to "meticulously adhere" to United Nations' resolutions authorizing force in the war-torn country.
The moves, which come amid mounting international pressure to find a resolution to Libya's four-month conflict, could test the unity of alliance states seeking the regime's ouster.
Speaking to Italian newspaper Corriere della Sera, Col. Gadhafi's son and onetime heir apparent Seif al-Islam Gadhafi said in an interview published Thursday that elections could be held within three months, with transparency guaranteed by the presence of international observers. Mr. Gadhafi said his father, who took power in a military coup in 1969, would be ready to step aside if he lost the election but would not go into exile.
"I have no doubt that the overwhelming majority of Libyans stand with my father and see the rebels as fanatical Islamist fundamentalists, terrorists stirred up from abroad," Corriere quoted him as saying.
The rebel leadership in Benghazi, eastern Libya, immediately rejected the offer, stressing that the Gadhafi family would have no role in Libyan elections. That stance was echoed by Washington, with State Department spokeswoman Victoria Nuland saying, "It's a little late for any proposals by Gadhafi and his circles for democratic change….It's time for him to go."
But in Moscow, Russian President Dmitry Medvedev and Chinese leader Hu Jintao stepped up diplomatic pressure on NATO, issuing a joint statement expressing concern about the lack of resolution to the Libyan conflict and urging a "meticulous adherence" to U.N. Security Council resolutions; a thinly veiled criticism of the alliance's broad interpretation of the mandate.
Permanent Security Council members Russia and China abstained from the UN resolutions which authorized "all necessary measures" to protect Libyan civilians as Col. Gadhafi's forces threatened to crush opposition in the rebel stronghold of Benghazi in March. The imposition of a no-fly zone and attacks on pro-Gaddafi forces prevented a potential humanitarian crisis in Benghazi, but—13 weeks later—it is the duration and intensity of NATO assaults that concerns Moscow and Beijing.
The statement came amid renewed diplomatic efforts to broker a solution to the crisis gripping the North African country after three months of NATO airstrikes on Tripoli and military targets have failed to unseat Col. Gadhafi or stop his forces from launching attacks against rebel-held territory in the country's east and southwest.
On Thursday, a Russian envoy who arrived in Tripoli for talks with Libya's government, said direct contacts between representatives of the regime and the rebels were taking place, according to Russian news agency RIA Novosti.
However, the envoy, Mikhail Margelov, also stressed that Libya's government had repeated its rejection of calls for Col. Gadhafi to step down. The Libyan leader's departure is a key demand of the rebel leadership and a growing number of international leaders, including President Medvedev, and is likely to scupper a diplomatic breakthrough.
"From the point of view of the Libyan leadership, there cannot be any talk of Gadhafi's departure today," RIA Novosti quoted Mr. Margelov as saying.
In Rome, Italian Foreign Minister Franco Frattini said his government was calling together up to 300 tribal leaders from all parts of Libya for a meeting in the near future to promote reconciliation.
But the flurry of diplomatic activity also follows growing signs of stress within the military alliance. Some NATO officials have said they don't have the resources for a sustained campaign, while Republicans in the Congress have questioned the legal grounds for continued U.S. involvement.
House Speaker John Boehner said lawmakers had options for curtailing the conflict, including "the power of the purse"—an implicit threat to cut off funding.
In a Wednesday report sent to all members of Congress, the White House laid out its most detailed justification of U.S. involvement in Libya, which it said has cost $716 million so far and will total $1.1 billion through September.
Analysts said Col. Gadhafi was using his political acumen, cultivated during decades as an international pariah, to build pressure on NATO by raising the political and economic costs for his opponents.
"Gadhafi is clearly trying to sow discord among the NATO alliance, and with talk of elections and exacerbating divisions between the security council members, he may have some success….However, it's highly unlikely NATO will abandon its current course or change strategy yet; the stakes are too high," said Gary Li, an intelligence analyst at Exclusive Analysis, a London-based political risk consultancy.
Libyan Prime Minister Baghdadi al-Mahmoudi appeared to mirror that strategy on Thursday, stressing in a news conference that the government was ready to broker a peace deal as soon as NATO halted its campaign, but adding that Tripoli was "watching events in U.S. Congress very closely."
But for now, the prospect of a near-term diplomatic solution looks dim. Tripoli was hit by NATO strikes in the early hours of Thursday, with several explosions rattling windows across the center of the city and sending plumes of smoke into the air.
Libyan officials took foreign reporters to a hotel that they said had been destroyed in a NATO airstrike overnight. The building, which was a wreck of twisted metal and pounded masonry, was located adjacent to government buildings previously targeted by the alliance.
Deputy Foreign Minister Khaled Kaim told reporters, "There is no justification for this attack….The NATO bombing will not work."