fresh protests erupt in several Syrian cities
Anti-government protests have begun in several towns and cities across Syria, with the army reportedly entering a town in the rebellious northwest.
Rallies started in Homs, Hama, Deraa, Der al-Zour, Jableh and other cities after Friday prayers.
Earlier, Mustafa Osso, a Syria-based rights activist, said large numbers of soldiers had entered the northern town of Maarrat an-Numan early in the morning.
Omar Idilbi of the Local Co-ordination Committees, an activist network, said troops were in full control of the town, which the army surrounded a day earlier along with nearby Khan Shaykhun on the main north-south road linking Damascus and Aleppo.
The military action came as French President Nicolas Sarkozy said France and Germany had agreed to push for tougher sanctions against Syria.
"France, hand-in-hand with Germany, calls for tougher
sanctions against Syrian authorities who are conducting intolerable and unacceptable actions and repression against the [Syrian] population," he told a news conference after talks in Berlin with German Chancellor Angela Merkel.
Earlier, Ban Ki-moon, the UN chief, appealed to the Syrian president to halt the crackdown on demonstrations.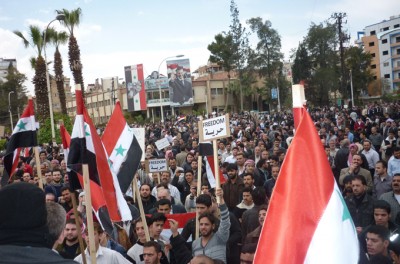 "I again strongly urge President [Bashar] Assad to stop killing people and engage in inclusive dialogue and take bold measures before it's too late," he said in Brazil on Thursday.
Makhlouf quits business
In another development, Rami Makhlouf, a tycoon cousin of Assad and focus of anti-corruption protests, announced he was quitting business and moving to charity works.
In a statement, Makhlouf said he took the decision to quit because he no longer wants "to be a burden on Syria, its people and its president".
Makhlouf will channel his wealth into charity and development projects, according to Syrian television.
"As for his businesses, they will be directed so that they … create jobs and support the national economy. He will not enter into any new project that [brings] him personal gain," the report said on Thursday.
Makhlouf controls several businesses including Syriatel, the country's largest mobile phone operator, duty free shops, an oil concession, airline company and hotel and construction concerns, and shares in at least one bank.
Under sanctions
State news agency SANA quoted Makhlouf as saying he will put his 40 per cent holding in Syriatel up for sale in an initial public offering, with profits allocated to humanitarian work and families of those killed in the unrest.
Offices of Syriatel were some of the first buildings to be torched by demonstrators as protests first erupted in Deraa in mid-March, as the company and Makhlouf are seen as symbols of Syria's widespread corruption.
Makhlouf has been subject to US sanctions since 2007 for what the US calls public corruption, as well as EU sanctions imposed in May, but repeatedly maintained he is a legitimate businessman whose firms employ thousands of Syrians.
The announcement of Makhlouf's new plans was seen as a concession to the opposition, as protests show no signs of losing strength despite the brutal response from authorities.
Syrian rights groups say 1,300 civilians and more than 300 soldiers and police have been killed since the uprising began.
The latest focus of the crackdown has been in Idlib province in the northwest, around the town of Jisr al-Shughur where authorities say 120 security personnel were killed earlier this month.
Activists said security forces swept through villages and towns in the area on Thursday, randomly arresting
males over age 16.
Military operations in Idlib province have prompted more than 9,000 Syrians to stream north across the border into Turkey. An official told AFP that about 1,200 Syrians crossed into Turkey overnight Thursday to Friday
Thousands are also sheltering inside Syria close to the border.
Turkish officials are preparing to send food, clean water, medicine and other aid to thousands more stranded on the Syrian side.
"We have taken precautions and humanitarian aid will be supplied for around 10,000 people who are waiting on the Syrian side of the border," Ahmet Davutoglu, the Turkish foreign minister, said after he met with an envoy from Assad on Thursday.
He also reiterated Turkey's support for major democratic reform in Syria.