ANGELINA Jolie to visit Syrian refugees in Turkey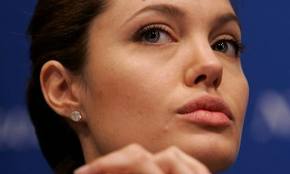 ANGELINA Jolie will meet Friday with Syrian refugees in southern Turkey during a tour of camps set up on the border to house some 8,500 Syrians.
The Syrian refugees fled a violent government crackdown on the country's pro-democracy movement.
Jolie's visit was confirmed Thursday by Selcuk Unal, a spokesman for Turkey's foreign ministry, who told AFP that "Ms. Jolie will visit Hatay province on Friday after traveling from Istanbul."
Turkish newspaper the Hurriyet Daily News reported Wednesday that the Hollywood star submitted an application to the Turkish authorities for permission to visit the refugee camps on the border.
Jolie was said to be keen to meet some of the Syrians who fled to Turkey to escape the crackdown on Syria's anti-government uprising.
Many of the refugees are staying in three camps in Hataya province and come from the Syrian town of Jisr al Shughur, some 25 miles from the Turkish border and the scene of a major army operation.
Foreign ministry sources confirmed to the Hurriyet Daily News that the application to visit the refugees was made Tuesday on Jolie's behalf.
She is a goodwill ambassador for the UN High Commissioner for Refugees and known for her humanitarian activities.
In April, she traveled to Tunisia during its refugee crisis as thousands fled from its war-torn neighbor, Libya.