Suleiman: The government is 100% Lebanese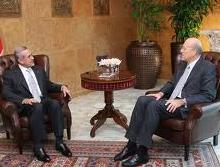 Lebanon's president defended the country's long-delayed new government Wednesday against accusations that it gives foreign powers Syria and Iran far too much sway.
The Lebanese government is dominated by the militant group Hezbollah and its allies. Hezbollah, which has the strong backing of Syria and Iran, has risen over decades from a resistance group against Israeli to Lebanon's most powerful military and political force.The new Cabinet was announced Monday, five months after Hezbollah forced the collapse of the previous, Western-backed government.
"This government is 100 percent Lebanese, with a 100 percent Lebanese agenda," President Michel Suleiman said during the Cabinet's first meeting Wednesday.
Opponents of Hezbollah — which the U.S. considers a terrorist organization — say having it in control of Lebanon's government could lead to international isolation.
The tortuous process of forming a government is a reflection of the country's political dysfunction with outside powers backing rival sides — a legacy of years of civil war when Lebanon became a proxy battleground for other nations.
The most recent political crisis started in January, when ministers from Hezbollah and its allies walked out of the government over fears the militant group would be indicted in the killing of former Prime Minister Rafik Hariri.
Hariri was a billionaire businessman and political leader who had been trying to limit Syria's domination of Lebanon in the months before his death. Syria denied any involvement in his killing and called the U.N.-backed tribunal investigating the murder a conspiracy by its enemies in the U.S. and Israel.
Hariri's son, Saad, who was prime minister in January, refused to denounce the tribunal or cut off Lebanon's 49 percent share of the funding for it, which prompted the walkout.
His coalition has now refused to take part in a government of Prime Minister Najib Mikati, who was Hezbollah's favored candidate for the post. They have said Mikati's new government represents a "coup" against the democratic system.
Fares Soeid, a senior official with the Western-backed coalition known as March 14, said a government led by allies of Syria and Hezbollah "threatens to transform Lebanon into a rogue state."
At a press conference Wednesday, he added that his group will use all "democratic and peaceful" means to oppose the government, setting the stage for a potential political stalemate.
In Israel's first official comment on the new Cabinet on Wednesday, the Foreign Ministry said Israel expects Lebanon's new government to honor the truce that ended the 2006 summer war between Israeli troops and Hezbollah.
Israel has accused Hezbollah of violating the truce by restocking its arsenal and moving forces into south Lebanon, near Israel's northern border.