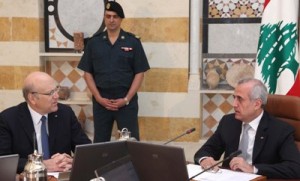 Newly appointed Information Minister Walid Daouq announced following the first meeting of the new cabinet on Monday in Baabda, that the ministers agreed to "form a committee responsible for formulating the ministerial statement."
"President Michel Suleiman announced that he will not intervene in the drafting of the statement and insisted on following national constants, the constitution and the Taif Accord," he added.
Daouq also said that Lebanese Democratic Party leader MP Talal Arslan, who resigned as state minister shortly after the Monday announcement of the cabinet line-up, did not attend the meeting.
LBC TV reported that the ministerial statement drafting committee includes: Health Minister Ali Hassan Khalil, State Minister for Administrative Reform Mohammad Fneish, Environment Minister Nazem Khoury, State Minister Ali Qanso, Social Affairs Minister Wael Abou Faour, Finance Minister Mohammad Safadi, Labor Minister Charbel Nahhas and Justice Minister Shakib Qortbawi.
State Minister Nicolas Fattouch reportedly abstained from the committee for personal reasons, the station also said.
The new cabinet was announced on Monday after almost five months of deliberations between the March 8 parties.
Suleiman: No Syrian interference
President Suleiman stressed during the new cabinet's first meeting that the government was formed with a Lebanese agenda and without foreign meddling, Daouq quoted him as saying.
"This government is 100 percent Lebanese, with a 100 percent Lebanese agenda," Suleiman said
Suleiman added: "Syria didn't interfere and this is what we ask for."
"Since the signing of the Taef Accord and to this day, we had been accustomed to Syria intervening in the government formation process, but it didn't this time, proving that we are capable of resolving our affairs among ourselves," Suleiman stressed
"Sacrifices have to be made to save the country through adhering to democracy in various elections … and respecting the army as it remains the main national institution responsible for fortifying the nation," he added
Mikati: Government for all Lebanese
Prime Minister Nagib Mikati said during the new cabinet's first meeting that it "will work for the whole of Lebanon and all Lebanese without discrimination or spite," Daouq quoted him as saying.
"Lebanon is the victor and we cannot ignore the sacrifices that were made, especially that of Speaker Nabih Berri who asserted Sunni-Shiite unity, preventing strife from coming between them." Mikati was quoted as saying
Mikati stated that proving Lebanon's ability to protect itself and avert conflicts are the main challenges facing the country.
He highlighted Lebanon's ties with "friendly nations, especially those that stood by us during difficult times, most notably during Lebanon's confrontation with Israel." A possible reference to Iran and Syria.