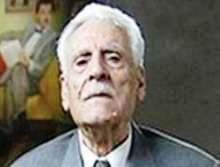 The Lebanese security authorities announced Wednesday that they were still searching for the 86 years old Shibli al-Ayssami, one of the original co-founders of the Syrian Baath Party. Ayssami is considered a veteran of the Syrian opposition.
The authorities said that the police had combed the whole area where he went missing but found nothing. "It is not yet clear whether Aysami has been kidnapped or not," they said
On May 26 , The Syrian Council for Human Rights reported that Ayssami went missing amid "mysterious circumstances, " from the town of Aley , Lebanon , a summer mountain resort , east of the capital Beirut.
He reportedly arrived in Lebanon on May 19 with his Syrian wife from the US to spend the summer in Aley , where his daughter Raja Sharafeddine , who is married to a local resident lives. No one knows where Ayssami is, and all authorities contacted by his family were unable to deliver any information on his whereabouts.
Ayssami fled his native Syria in 1966 over political differences with president Hafez al Assad ( father of the embattled Syrian president Bashar Bal Assad ) and has since lived in Iraq, Egypt and the United States and has not reportedly been involved in politics since 1992.
"At first I thought it was an accident, given my father's age," his daughter Mrs. Sharafeddine told AFP on Wednesday
"But in light of the role he played in politics, we now think it may be an abduction," she said without elaborating.
Sharafeddine said her father took daily walks in the afternoon an recounted that he left her home at around 4:30 on May 24 when he went missing
"If it is an abduction, it may be linked to his past activities, and his visit to Lebanon at a time like this could have been misinterpreted," Sharafeddine said.
More than 1,300 protesters have been killed and at least 10,000 others detained since the uprising against the Syrian regime started on March 15.
Over 10,000 Syrian have fled to Lebanon and turkey during the past few weeks