Awar defends Arslan's demand for a key cabinet portfolio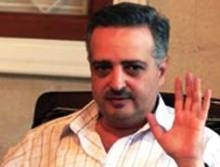 MP Fadi Awar , a member of the Mountain Unity bloc which is headed by MP Talal Arslan said on Tuesday that his leader deserves "a cabinet portfolio better than the State Ministry which he was granted."
Arslan resigned from the newly-formed cabinet shortly after the announcement of its formation on Monday after he found out that he was not assigned a key cabinet portfolio .
"The Lebanese Democratic Party's role should have been respected while forming the cabinet," Awar told Al-Fajr radio.
"The bloc's representation in the cabinet is not about shares, but about the allocation of key ministries among the sects, "Awar added.
He also said that his bloc did not take the decision over granting or withholding the vote of confidence to the cabinet yet, adding that some alternatives are being negotiated in secret to satisfy the bloc.
The bloc's participation in the cabinet will be based on the result of the negotiations, Aawar added.
Arslan's resignation
Arslan announced his resignation during a press conference and accused PM Nagib Mikati of lying and causing a rift between him , MP Walid Jumblatt and MP Michel Aoun.
He said "I cannot sit next to a man like Mikati in the same cabinet "
He said "Mikati lied to all the Lebanese and caused rifts between many people , he thinks he is the smartest and this is something we cannot accept". He added :" I have lost all confidence in Mikati and his abilities to seriously run the country".
Arslan was always insisting on being allocated a ministerial portfolio , but instead he was assigned a ministry of state . He accused Mikati of discriminating against the Druze community.
Ministries of state are usually used as a filler to complete the lineup.