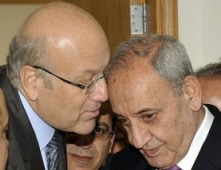 Al Mustaqbal newspaper reported quoted its sources as saying that Lebanese Speaker Nabih Berri played a key role in facilitating the birth of the new government when he gave up the ministry of youth and sports which was allocated to him and offered it to Faisal Karami .
"PM Nagib Mikati's original lineup that he presented to the president did not include anyone from the Karmi family ( neither Ahmad nor Faisal ), but included six Sunnis : Mikati, Mohammad Safadi, Walid Daouq, Hassan Diab, Ahmad Tabbarah and Alaaeddine Terru. The list was modified after Berri insisted on including Faisal Karami, which forced Mikati to include his ally Ahmad Karami and drop Ahmad Tabbarah ," Al Mustaqbal wrote.
Al Mustaqbal sources also reported that Berri's move was not only aimed at rescuing the cabinet but also to promote Mikati in the Sunni street and in Tripoli , by awarding the Sunnis 7 ministers instead of six ( against 5 for the Shiites) an unprecedented move since the Taef accord .
Following the announcement of the cabinet lineup on Monday Mikati told reporters : "Don't judge us by the names , judge us by our actions" . "He added this cabinet could not have seen the light if it wasn't for the sacrifices of Speaker Berri "