Another mass grave found in Syria, report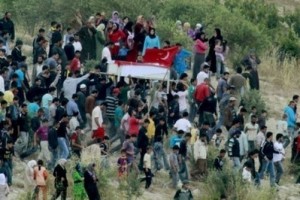 A Mass grave has been found in the Syrian town of Jisr al Shughour as violent clashes began to erupt there, reports said today.
State TV reported that when government forces stormed the northern town early today they uncovered bodies of security men apparently showing signs of "atrocities".
Heavy fighting has hit the area as troops used tanks and helicopter gunships to regain control of al Shughour from armed groups.
The discovery of the mass grave comes as international outrage mounts over Syria's brutal treatment of protestors – and as refugees flee by the thousands across the border to Turkey.
Foreign Secretary William Hague today warned that prospects for a UN Security Council resolution on Syria were "on a knife edge" as the regime's crackdown continued.
Mr Hague said the situation in the Middle East state was "very serious", amid fears that violence in the north could trigger a mass exodus of refugees.
But he made clear there was no chance of international military intervention to protect civilians, as is happening in Libya.
The Syrian regime says it is trying to restore order after 120 security personnel were killed.
The latest violence has sent another wave of people fleeing towards Turkey: 4,000 have already escaped over the border.
Mr Hague said this morning that the regime's behaviour was "unacceptable" and there were "many accounts of torture and human rights abuses.
"The main thing we are trying to do is get a resolution from the UN Security Council. That is much more difficult than in the case of Libya. A country like Russia, for instance, has a much closer relationship with Syria than it has had with Libya in recent years.
"But I do believe it is time for the Security Council to make a clear statement of the kind that we are advocating, calling on the Syrian government to respond to legitimate grievances, to release prisoners of conscience, to open up access to the internet and to cooperate with the UN High Commissioner on Human Rights."
He added: "The prospects of doing so (securing a resolution) are on a knife edge at the moment."
Asked whether the UK would contribute if the UN could be persuaded to back military intervention, Mr Hague replied: "It's so hypothetical that it is an academic question."
The Foreign Secretary pointed out that sanctions had already been imposed on 23 officials from the Syrian government.
"We are not entirely powerless but we are constrained by the need for international support for everything we do," he added.
Mr Hague complained that Iran was supporting the Syrian regime, saying Tehran was showing "extraordinary hypocrisy" after encouraging protests in other countries such as Egypt.
The Cabinet minister said the events showed the dangers of the Arab Spring chain of uprisings, but also its potential benefits.
"This still has the potential to be a major advance in world affairs but it will throw up many of these crises on the way," he added.
thesun.co.uk