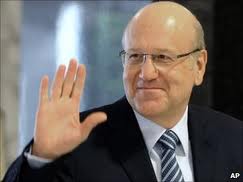 It appears that Progressive Socialist party leader MP Walid Jumblatt brought the green light from Syria for the formation of the cabinet. As soon as he returned he dispatched Minister of Public Works Ghazi Aridi to PM Designate Nagib Mikati to inform him about their discussions stressing Syria's president wish to have the government formed as soon as possible.
Jumblatt, accompanied by Aridi met Syrian president Bashar al Assad in Damascus on Thursday .
According to local sources the following is the most probable cabinet lineup….As usual nothing is final.
Muslim Sunnis (6 portfolios ): Najib Mikati (PM ), Mohammad Safadi (Financel), Walid Daouq ( information) , Faisal Karami ( Education), Alaaeddine Terru (state). Bassem Yamout or Mohammad Qaraawi
Muslim Shiites (6): Ali Al Shami or Yassin Jaber (Foreign ), Mohammed Jawad Khalifa (health), Hussein Hajj Hassan or Hassan Fadlallah (Agriculture), Adnan Hussein al Sayyed ( state) , Ali Abdullah or Ghazi Zaaiter ( environment) , Sobhi Yaghi ( Youth and sports)
Christian Maronites (6): Marwan Charbel (interior ), Gibran Bassil (energy), Fadi Abboud (Tourism), Chakib Kortbawi (justice), Salim karam Salim Karam (state), ( unknown ) to be named by the president
Christian Orthodox (4): Fayez Ghosn ( Defense ), Samir Muqbil (defense), Nicolas Nahhas ( Deputy PM ), Marwan Fadel ( ?)
Christian Catholics (3): Charbel Nahhas (labor), Gaby Layyoun (telecom) Nicolas Fattoush or someone else (state).
Druze (3): Ghazi Aridi (Public works) Talal Arslan, or Marwan Khaireddin (state or displaced ), Wael Abu Faour (social affairs).
Armenians (2): Nzarit Sabounjian (industry) and another Armenian ( still unknown)
Some are predicting that the cabinet lineup will be ready for final approval by President Michel Suleiman  as early as Saturday provided an agreement was reached on the  naming of the controversial 6th Maronite minister by the president .
MP Michel Aoun is reportedly stipulating that the president cannot name anyone from Kesrwan or Jubeil areas , but Suleiman is reportedly rejecting any such conditions on this issue .
Aoun was  also  trying to keep resigned Telecommunications Minister Charbel Nahhas in his post, but it appears that he didn't succeed because Nahhas reportedly failed badly in running the ministry and burned too many bridges.
On March 8 Mikati said that he won't announce a cabinet that doesn't include at least 10 or 15 ministers that he would be proud of.
"I can wait. I don't want a one-sided cabinet and I won't announce a government (lineup) that doesn't include at least 10 or 15 ministers that I would be proud of," he told An Nahar.
Based on the above configuration it is obviously one sided cabinet . The question on his mind must be: " Does it include the 10 or 15 that he can be proud of ?
The Iranian and Syrian -backed Hezbollah brought down PM Saad Hariri's government on January 12 over the Special Tribunal for Lebanon's (STL) imminent indictment which is widely expected to implicate Hezbollah members in the assassination of former PM Rafik Hariri in 2005
Mikati was appointed in January as the PM designate with the backing of the Hezbollah March 8 alliance and MPs Walid Jumblatt and Mohammad Safadi . March 14 leaders have repeatedly said that intimidation from Hezbollah's weapons helped secure the parliamentary majority for Mikati's nomination.
Jumblatt and his PSP parliament members reportedly switched allegiance to Hezbollah's PM candidate, following threats by Hezbollah.
Jumblatt, Mikati and Safadi were all elected on March 14 electoral tickets during the 2009 parliamentary elections.