Wahhab: Many obstacles blocking cabinet formation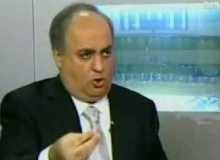 Despite the reported optimism over the formation of the Lebanese cabinet former minister Wiam Wahhab told Voice of Lebanon on Friday that "many obstacles are still blocking the formation of the cabinet."
He said that President Michel Suleiman and Prime Minister-designate Najib Mikati are unlikely to sign the cabinet formation decree soon.
"I stick my neck out on this one and say that no cabinet will be formed soon, despite my wish for the opposite, since we need a government. But, there are many complications, including external ones," Wahhab added without elaborations.
Wahhab said that he favors the formation of a national-unity cabinet.
Wahhab a staunch ally of Syria and Hezbollah said that Syrian President Bashar al-Assad "favors and hopes that Lebanese parties reach an agreement and form the cabinet."
There was an ambiance of optimism following MP Walid Jumblatt's return yesterday from his meeting with Assad. Many reported that he brought the green light from Syria for government formation. Some predicted that the cabinet could be announced as early as Saturday .
It appears from local reports that MP Michel Aoun continues to be the primary obstacle. He is reportedly stipulating that the president cannot name anyone from Kesrwan or Jubeil areas , but Suleiman is reportedly rejecting any such conditions on this issue .
Presidential sources told al-Liwaa newspaper in remarks published on Friday that "President Suleiman rejects preconditions set by any side on his choice of his representatives in the government."
"The president has made it perfectly clear that he would only name his ministers once Mikati presents him with the final 30-member cabinet lineup draft," al-Liwaa reported.
Al-Liwaa also reported that Speaker Nabih Berri's aide , MP Ali Hassan Khalil, and Hezbollah leader Sayyed Hassan Nasrallah's aide Hussein Khalil tried to intervene and asked Suleiman on Thursday to name his own candidate for the second Maronite minister, but the president refused, telling them he that he "was facilitating Mikati's mission but this move would not be at the expense of the constitution and institutions".
The Iranian and Syrian -backed Hezbollah brought down PM Saad Hariri's government on January 12 over the Special Tribunal for Lebanon's (STL) imminent indictment which is widely expected to implicate Hezbollah members in the assassination of former PM Rafik Hariri in 2005
Mikati was appointed in January as the PM designate with the backing of the Hezbollah March 8 alliance and MPs Walid Jumblatt and Mohammad Safadi . March 14 leaders have repeatedly said that intimidation from Hezbollah's weapons helped secure the parliamentary majority for Mikati's nomination.
Jumblatt and his PSP parliament members reportedly switched allegiance to Hezbollah's PM candidate, following threats by Hezbollah.
Jumblatt, Mikati and Safadi were all elected on March 14 electoral tickets during the 2009 parliamentary elections.