Jumblatt, Assad voice hopes for Lebanon, Syria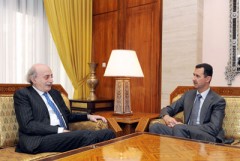 Progressive Socialist Party leader MP Walid Jumblatt met on Thursday with Syrian President Bashar al-Assad in Damascus the Syrian Arab News Agency (SANA) reported. He was accompanied by Public Works and Transportation Minister Ghazi Aridi .
They discussed the situation in Lebanon and Syria, the Syrian Arab News Agency (SANA)
"Their meeting tackled the dangerous events that Syria is witnessing due to armed organizations that are carrying out murders and targeting Syria's security and people," SANA reported in reference to the uprising that has erupted in Syria
SANA also reported that Assad voiced hope that the Lebanese will overcome their disagreements, and that a cabinet will be formed soon in Lebanon, while Jumblatt voiced his hope that Syria will be able to overcome the current crisis.
More than 1,300 civilians, including dozens of children, have been killed in a security crackdown against anti-government protests that erupted in Syria since March 15 .The protesters are calling for democracy and freedom and for the fall of the Syrian regime
Earlier this week, Syrian state television said 120 policemen had been killed by "armed gangs" in the northwestern town of Jisr al-Shughur. But activists dispute the official account. They are speaking of a mutiny – something that, if it were proven to be true, would undermine Assad's power significantly.
Nobody really knows what is happening . "Foreign reporters cannot get visas to go there and local journalists are all being jailed or forced to remain silent," Reporters Without Borders secretary general Jean- François Julliard says about the situation in Syria