Ex-World Bank chief cancels AUB, Lebanon speech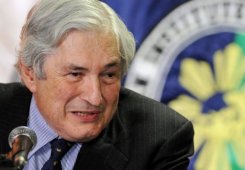 Former World Bank chief James Wolfensohn on Friday cancelled a scheduled keynote address at the American University of Beirut, amid accusations by the AUB faculty that he supported Israel.
"AUB regrets to announce that Sir James Wolfensohn, out of concern that his presence at the June commencement ceremony would distract from the celebratory nature of the event, has decided that he will not attend," read a statement released by the university.
The decision came after more than 90 faculty members signed a petition, entitled "Not in our name: AUB faculty, staff and students object to honouring James Wolfensohn."
This pressured the university to revoke its decision to grant an honorary doctorate to Wolfensohn, who was also scheduled to give the keynote address at the university's commencement on June 25.
AUB president Peter Dorman will now give the address instead.
The petition argued that "honouring Mr Wolfensohn… symbolically undermines AUB's legacy in the struggle for social justice and its historical connection to Beirut, to Palestine and beyond."
It also detailed Wolfensohn's alleged links to Israeli companies and accused him of being "an investor in an Israeli company developing transport infrastructure for illegal Jewish-only settlements built in the occupied West Bank" and a "standing member of the international advisory of the Israeli Democracy Institute."
Wolfensohn, an Australian-born naturalised US citizen, could not be reached for comment.
The international investment banker and financial adviser served as president of the World Bank from 1995 to 2005 and is currently chairman of his own firm, Wolfensohn and Company.
In past years, several artists and writers have had to cancel scheduled performances in Lebanon amid controversy over their alleged ties to Israel, which ended a 22-year occupation of southern Lebanon in 2000.
Lebanon remains technically at war with Israel and has vowed to be the last Arab country to sign a peace agreement with the Jewish state.
Lebanon's Shiite militant group Hezbollah fought a devastating war with Israel in 2006.