15 killed as Syrian troops continue to pound Rastan
At least 15 people were killed early Thursday as government troops continued to shell the central Syrian town of Rastan, bringing to 57 the total number who have died there from the bombardment since it began Tuesday, according to a Damascus-based human rights lawyer.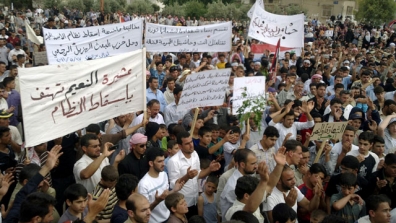 The lawyer told Babylon & Beyond that the death toll included women and children. Two women were among those killed Thursday, according to the lawyer.
Syrian activist reports say a 4-year-old girl died in Rastan on Wednesday as a result of the violent crackdown.
An eyewitness in Rastan who gave his name as Abu Nimr told Babylon & Beyond that troops began shelling the town heavily at around 9 p.m. Wednesday and that the bombardment lasted until about 4 a.m. Thursday. Mosques and the town's main bakery were among the buildings hit, he said. He added that planes were circling above Rastan and surrounding areas Thursday afternoon to monitor activity there.
Private homes were also targeted in Thursday's renewed bombardment, according to the activist group Local Coordination Committees of Syria, including the homes of Lt. Zyad Madani and Abdulmoin Fayyad. The families of both were killed, according to a statement from the group.
The group also asserted that authorities are not allowing food and medicine to enter Rastan.
Syrian troops started their clampdown on Rastan and nearby towns and areas in the central province of Homs over the weekend.
Syrian government-controlled media, meanwhile, said army units and security forces arrested members of so-called armed terrorist groups in Rastan on Wednesday. Syrian authorities have insisted since the outbreak of the pro-democracy protests that they're fighting armed gangs and terrorists.
Human rights groups say more than 1,100 people have been killed since mid-March in the government crackdown on foes of President Bashar Assad's regime.
A report released Wednesday by the New York-based group Human Rights Watch said the Syrian regime's brutal crackdown could "qualify as crimes against humanity."
The group made the allegations in the report titled "We've Never Seen Such Horror: Crimes Against Humanity in Dara," which is based on more than 50 interviews with victims of abuse and witnesses in and near the besieged southern town of Dara, the epicenter of anti-government protests.
As the crackdown continues, hundreds of members of Syrian opposition groups from across the political spectrum have gathered in neighboring Turkey to discuss ways of changing the regime.
The three-day gathering, titled "Conference for Change in Syria," is expected to end Friday. Media reports said Thursday that the group was drafting a joint declaration on how to back the uprising. The statement was expected to be issued later Thursday or Friday morning.