Christian leaders agreed to form a follow up committee
The Christian political leaders met for the second time under the sponsorship of Maronite Patriarch Bechara Boutros al-Rai at Bkirki. Their first meeting was held in April .
Following their Friday meeting, the participants issued a statement calling for partnership between the Christians, equitable public-job distribution between all sects, and the preservation of the land.
The gathering also discussed studies on Christian participation in public administration, the statement added.
An agreement was reached to form a committee to follow up "on all matters that are important for Lebanon and the Christians' role in the country ,monitor the cooperation between them, Bishop Samir Mazloum who read the summit's closing statement said.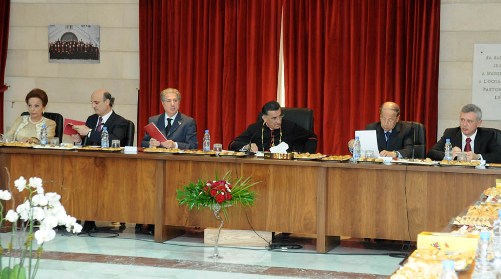 The meeting was attended by 34 MPS and the leading Christian leaders, including former MP Nayla Mouawad , Former Lebanese president and current Phalange Party leader Amin Gemayel, Lebanese Forces leader Samir Geagea , Free Patriotic Movement leader MP Michel Aoun and Marada Movement leader MP Suleiman Franjieh