Aoun denies insulting Muslim Sunnis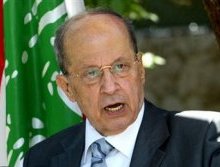 Free patriotic Movement FPM leader MP Michel Aoun rejected on Saturday a "provocative campaign" launched against him and denied media reports quoting him as allegedly insulting Lebanon's Sunni Muslims.
"What has been said about me is unfounded…stressing that his political life was proof of his good ties with all Muslims. He said in a statement a statement issued by his office
He reiterated that he filed a complaint against certain media outlets for inciting "provocative campaigns" against him, a reference to a lawsuit Aoun filed against Al-Jumhuriya newspaper and former Justice Minister Charles Rizk.
On Friday Al-Jumhuriya newspaper published a WikiLeaks cable purportedly containing the minutes of a meeting between former US Ambassador to Lebanon Jeffrey Feltman and Charles Rizk, with the latter quoted as saying that "Aoun told him that the Sunnis in Lebanon are 'animals' and 'terorists' and the "Maronite-Shiite alliance is the best way to confront the local and foreign Sunni threat."
A spokesperson from the Sunni Dar al-Fatwa said on Thursday that the council "has commissioned lawyers to prepare a lawsuit against Aoun" over the WikiLeaks remarks.