Allouch links attack on UNIFIL to sanctions against Syria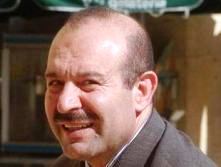 Future Movement official Mustafa Allouch said on Sunday that Friday's attack on UNIFIL troops was a results of the European Union and US' sanctions against the Syrian regime.
"When things get complicated between Syria and Europe, it gets complicated in Lebanon . Usually, some Lebanese parties are used to incite unrest and then Syria shows up as a white knight with a solution," he told MTV television.
Commenting on Thursday's Telecom ministry incident Allouch said that the March 14 coalition has two options: to either abide by the 'militias' and resigned Telecommunications Minister Charbel Nahhas or confront them the way the Internal Security Forces did.
According to various reports, caretaker Interior Minister Ziad Baroud on Thursday had ordered Internal Security Forces Director-General Achraf Rifi to withdraw ISF units from the Telecommunications Ministry's building in Adliyeh. However, Rifi refused to do so.
Rifi told Al-Liwaa newspaper that ISF units are responsible for protecting the Ogero telecommunications company until he receives a request to the contrary from either the cabinet or the company.
According to Nahhas, ISF units had illegally occupied his ministry's building.
Rifi Thursday accused resigned Minister Nahhas of undermining security in the country.
Dr. Ziad Ajouz leader of the Free Nasserite Movement described Nahhas' plan to dismantle the Ogero telecom station as a militia action. Ajouz said Nahhas was accompanied by Hezbollah gunmen to dismantle the OGERO station that is being always guarded by the internal security forces. Ajouz said that Nahhas got the password Wednesday from Hezbollah chief Sayyed Hassan Nasrallah