Aridi says Lebanon is heading toward chaos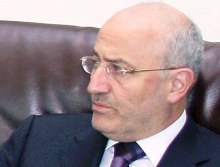 Caretaker Public Works and Transportation Minister Ghazi Aridi told LBC television on Sunday: "Because of what's happening today in the country, we must be ready for anything," adding, "We are heading toward chaos."
Aridi commented on Thursday's Telecom ministry incident blaming it on mismanagement at the ministry : "I don't disagree with resigned Telecommunications Minister Charbel Nahhas, but there is a correlation between 'will' and 'management'."
"It is not enough to just have the will and a plan."
Aridi said that Nahhas had no right to act the way he did, adding that the telecommunications minister should know how to be a good manager.
"What is more dangerous is when the head of a security institution gives an order to an officer and the latter does not follow it. This is a violation of the simplest rules on which the institution is based," Aridi also said.
According to various reports, Interior Minister Ziad Baroud on Thursday had ordered Internal Security Forces Director-General Achraf Rifi to withdraw ISF units from the Telecommunications Ministry's building in Adliyeh. However, Rifi refused to do so.
Rifi told Al-Liwaa newspaper that ISF units are responsible for protecting the Ogero telecommunications company until he receives a request to the contrary from either the cabinet or the company.
Rifi Thursday accused resigned Minister Nahhas of undermining security in the country.
Dr. Ziad Ajouz leader of the Free Nasserite Movement described Nahhas' plan to dismantle the Ogero telecom station as a militia action. Ajouz said Nahhas was accompanied by Hezbollah gunmen to dismantle the OGERO station that is being always guarded by the internal security forces. Ajouz said that Nahhas got the password Wednesday from Hezbollah chief Sayyed Hassan Nasrallah
Aridi commented on the cabinet formation process, saying that he rejected an offer by President Michel Suleiman and Prime Minister-designate Najib Mikati to head the Interior Ministry, which has been an issue of controversy reportedly delaying the formation of a government.
"It will add more problems and will not solve the current ones," said Aridi.
Aridi's boss MP Walid Jumblatt was quoted by Al-Akhbar newspaper as saying that Hezbollah "does not want to form a new cabinet," and that" Hezbollah is using Change and Reform bloc leader MP Michel Aoun as a façade to delay cabinet formation"
The Iranian and Syrian backed Hezbollah brought down PM Saad Hariri's government on January 12 over Special Tribunal for Lebanon (STL) 's imminent indictment which is widely expected to implicate Hezbollah members in the assassination of the father of caretaker PM
Lebanon has been run by a caretaker government since last January. Nagib Mikati was appointed in January as the PM designate with the backing of the new March 8 majority led by Hezbollah. March 14 leaders have repeatedly said that intimidation from Hezbollah's weapons helped secure the parliamentary majority for Mikati's nomination.
Disputes over cabinet formation have prevented Mikati from forming the cabinet. Free Patriotic Movement leader MP Michel Aoun is reportedly demanding a disproportionate share in the cabinet and is being backed by Hezbollah and Syria in his demands . Aoun is also reportedly insisting on being allocated the 2 most sensitive security portfolios : The ministries of Interior and communications and does not want the president to have any share in the cabinet .