More protests over the torture of 13 year old by Syrian security forces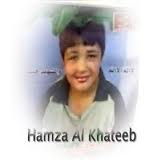 At least three people were killed Sunday as protests continued to rage in Syria in defiance of a sustained and brutal government crackdown. The latest demonstrations were galvanized by revelations that authorities had apparently tortured and murdered a 13-year-old boy last month near the protest flashpoint of Deraa.
Hamza al Khateeb a 13 years old boy from "Al Jeezah" or "Al Giza" village in Daraa province. His tragedy started when he marched with his family in a rally to break the siege of the city of Daraa. He was detained among hundreds of Syrian during the massacre of Siada.
After weeks of absence Hamza was returned to his family as a dead body on Saturday with scars testifying to the torture….bruises , burns to the feet, elbows, face and knees and his genitals removed. Family members said the wounds are consistent with those seen of victims of electric shock devices and cable whippings. The child's eyes are also swollen and black, and both arms showed identical bullet wounds.
View You Tube video on the torture of Hamaza al Khatib
"People are really furious about what happened to Hamza and it is another indication that the secret police and authorities are criminals that cannot be trusted to carry out any reforms," a source in Daraa told Al Jazeera. "It was the people of Daraa who started this revolution and the people of Daraa will not stop. Despite their anger, people are still insisting on facing this barbarianism with peaceful protests. Despite the tears in our eyes we are facing them with smiles on our faces, because we know we are right."
Al Jazeera reported that after receiving his body, Khatib's family was visited by Syrian secret police, who arrested the boy's father. The boy's mother said officers ordered her husband to say the boy was killed by armed Salafists, or ultra-conservative Muslims, whom Assad has claimed as being behind the unrest.
She said the secret police had warned her not to speak to the press, threatening, "You know what would happen if we heard you had spoken to the media."
On Sunday, Syrian forces killed two people and wounded scores more on Sunday in the central town of Rastan, Reuters reported, quoting a witness. Troops backed by tanks encircled the town of 80,000 in the morning and began firing heavy machine guns in the streets.
"This is pure revenge," the witness said, referring to thousands of protesters who demanded on Friday the removal of Assad in one of the largest demonstrations in the region since the uprising against the government erupted in southern Syria on March 15 and spread across the country.
Rastan, a relatively prosperous town in an agricultural region, is on the main northern highway leading from Damascus to Syria's second city Aleppo.
At least one man was killed and scores were wounded later Sunday as tanks entered the town of Talibiseh near the central city of Homs, residents said, in a further indication that the government is continuing to expand the breadth of its crackdown.
Washington post has quoted unnamed US officials as saying that Iran has been sending trainers and consultants to Syria to help the Syrian regime in its brutal crackdown against the protesters .
The paper also reported that this is in addition to special equipment the Iranians sent to the Syrian authorities to help them in identifying and tracking down  the protesters that use Facebook and Twitter .