MP: UNIFIL attack was an Iranian and Syrian message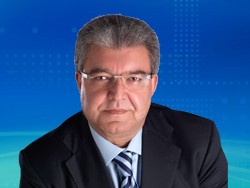 March 14 MP Nohad al-Mashnouq said on Friday that the explosion which targeted a UNIFIL patrol in south Lebanon is a message to the international community which met to look into a draft resolution to support the Syrian people  who  have been subjected to murder and torture.
Six were reportedly injured , one seriously according to a report by UNIFIL
"Five are moderately wounded, and one is seriously wounded. They are in a hospital in Sidon," UNIFIL spokesman Andrea Tenenti told Reuters.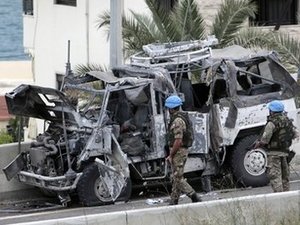 UNIFIL said the bomb had been aimed at a logistics convoy
The attack prompted Rome to declare it would reduce its contingent, which is the largest in UNIFIL with nearly 1,700 soldiers. UNIFIL's previous commander was also Italian.
The force of the explosion tore through part of a highway concrete barrier, smashed the white jeep's windows and left it riddled with shrapnel, a Reuters picture showed. The driver's face, hands and stomach were drenched in blood.
" Friday's explosion is a clear Iranian-Syrian message to the international community to not interfere in Syrian affairs," Mashnouq told Al-Arabiya TV in a possible reference to Hezbollah and the Syrian backed Palestinian militants that operate outside the camps
"Some Lebanese politicians who express an Iranian and Syrian point of view spoke of their ability to threaten UNIFIL. This was implemented today." He said
Similarly Future bloc leader MP Fouad Siniora said on Friday that using Lebanon as a mail box will not benefit anyone but Israel, according to a statement issued by the MP's press office.
The former premier condemned the attack that targeted a UNIFIL patrol at Saida's entrance, the statement also said.
"This condemned attack on UNIFIL…is an attack on Lebanese sovereignty because UNIFIL helped Lebanon implement UN Security Council Resolution 1701 and helped strengthen Lebanon's sovereignty on its lands in the South."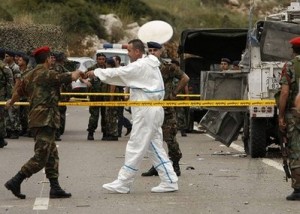 He also said that investigations must be increased, adding that he who committed such a cowardly act must be brought to justice.
Six Italian peacekeepers were wounded – two of them seriously – along with two civilians on Friday in a roadside bomb explosion .
According to human rights activists, at least 1100 people have been killed and at least 10,000 others arrested since the revolt against Syrian President Bashar al-Assad's regime began mid-March.
Update
Remotely controlled bomb
Al Hayat newspaper reported that preliminary information revealed that the bomb used in the attack was between 5 to 10 kg , similar to the one used against the Irish UNIFIL forces 2 years ago .
The investigation also revealed that the bomb was remotely controlled
all the injured UNIFIL personnel and the civilians were treated at Hamoud Hospital In Sidon