Gemayel calls for a National salvation cabinet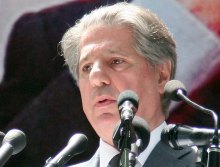 Former Lebanese president and current Phalange Party leader Amin Gemayel told MTV: A national salvation cabinet must be formed and the issue of weapons must be tackled through national dialogue."
Unlike other March 14 leaders , Gemayel expressed his opposition to a technocrat cabinet:
"I wonder how some are suggesting a technocrat cabinet, as the solution should be political." He said
He stressed that his call for a national salvation cabinet means a "cabinet on which there is consensus."
Commenting on the call by Speaker Nabih Berri for an extraordinary session of the parliament Gemayel said on Sunday that he does not know how the parliament can legally address pressing issues such as the Banque du Liban governership appointment, adding that "if there is an intention for a solution, the cabinet can hold an extraordinary session on limited, exceptional, and pressing issues."
Berri said he is contemplating the possibility of holding an extraordinary parliamentary session, while March 14 leaders have said it would be unconstitutional for parliament to meet before PM designate Nagib Mikati forms his cabinet.
"The law, constitution, and custom permit this but logic dictates that there be a cabinet when the parliament meets," he told MTV.
"The issue of Phalange party participation in any cabinet in which the March 14 allies do not participate is not on the table." Gemayel stressed
He added, "I do not know how a technocrat cabinet can be proposed – the dispute is not here […] the solution can only be a national political solution."
Prime Minister-designate Najib Mikati was appointed in January with the March 8 coalition's backing and has not yet formed his cabinet. Saad Hariri's government, which collapsed in January, is currently functioning in a caretaker capacity.