Hezbollah condemned US sanctions against Syria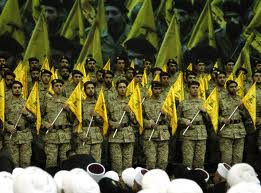 Hezbollah issued a statement on Thursday condemning the US sanctions against Syria and accusing the US of targeting Syria because of its support for the resistance against Israel.
"The imposition of US sanctions on Syria and the attempt to target Syrian President Bashar al-Assad is a political decision that has no relation to human rights," the statement said.
"The sanctions are a punishment against Syria and its people for supporting the Resistance and Palestine against Israel and the US," the statement added.
The statement added that US interference "will not stop the Syrian people and its leadership from committing to the righteous causes of the nation."
The United States imposed sanctions on Assad and six other top aides for human rights abuses on Wednesday in a dramatic escalation of pressure on Syria to cease its brutal crackdown on protesters.
In addition to Assad, the Treasury said the sanctions would target Vice President Farouq al-Shara ( pictured with Assad, Prime Minister Adel Safar, Interior Minister Mohammad Ibrahim al-Shaar, Defense Minister Ali Habib as well as Abdul Fatah Qudsiya, the head of Syrian military intelligence, and Mohammed Dib Zaitoun, director of the political security directorate.
In his Middle East policy speech on Thursday , President Barack Obama said Syrian President Bashar al-Assad faces the choice of either leading a democratic transition in his country or getting out of the way.