Feltman in Beirut to meet with Key Lebanese officials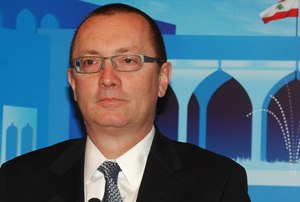 U.S. Assistant Secretary of State for Near Eastern Affairs Jeffrey Feltman arrived in Beirut Thursday evening and was received at the airport by US Ambassador to Lebanon Maura Connelly under high security measures, NNA reported
He is expected to meet with President Michel Suleiman, Speaker Nabih Berri and Prime Minister-designate Najib Miqati.
Feltman may also meet with caretaker Prime Minister Saad Hariri who is currently out of the country and is also scheduled to meet with political officials over a dinner banquet at the U.S. Embassy according to local reports
Feltman's arrival coincided with U.S. President Barack Obama's policy speech on the Middle East .
His trip also comes amid three major developments: the turmoil in Syria and its implications on Lebanon, Sunday's deadly protests in the Lebanese border town of Maroun al-Ras in which 11 Palestinian refugees were killed and 112 were wounded by Israeli forces, and the Lebanese cabinet formation deadlock.
Feltman who served as the United States Ambassador to Lebanon from July 2004 to January 2008 is very popular with the March 14 alliance , but not with the Hezbollah led March 8 alliance. In 2006 Hezbollah leader Sayyed Hassan Nasrallah, dubbed Fouad Siniora's government in Lebanon as the "Feltman Government".
Some parties in the March 8 alliance have waged a campaign against Feltman's visit in a bid to depict it as being about the cabinet formation process.