Egypt's Suzanne Mubarak to hand over assets to state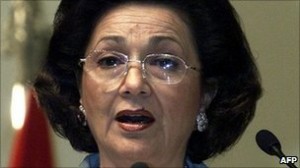 The wife of ousted Egyptian President Hosni Mubarak has agreed to hand over assets to the state after being held in a corruption probe, officials say.
They say Suzanne Mubarak will turn over a villa in a Cairo suburb and some $3m (£1.9m) held in bank accounts in Egypt.
The Mubaraks face allegations of illegally acquiring wealth whilst in power for 30 years.
Mr Mubarak – who was ousted in February – is also accused of involvement in the killings of anti-regime protesters.
'Idea of revenge'
Mrs Mubarak, aged 70, pledged on Monday to hand over the money and the villa.
By relinquishing her claims, she would be benefiting from articles in Egyptian law which allow those accused of making illegal gains of giving them up in exchange for dropping the investigation, lawyer Nasser Amin was quoted as saying by the Associated Press news agency.
"The decision may not be accepted by society, who after a revolution, side with the idea of revenge. But from the legal point of view, this is in line," the lawyer added.
The Mubaraks are currently under detention in hospital the Red Sea resort of Sharm el-Sheikh.
The former first lady is recovering after falling ill when told she was being detained. Initial reports said she suffered a heart attack but some officials say it was a "panic attack".
Reformers in Egypt believe the Mubarak family accumulated a fortune worth tens of billions of dollars while in power.
Mr Mubarak, 83, has denied this, and little hard evidence has yet been made public. However their bank accounts in Cairo and in Switzerland have been frozen.
Many Egyptians also believe the former first lady was instrumental in pushing for her eldest son, Gamal, to succeed his father – one of the grievances that mobilised opposition protesters. BBC