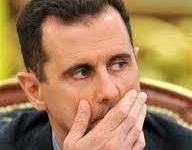 Nick Harvey, Britain's armed forces minister, said it was "highly likely" that the International Criminal Court would seek the arrest of Bashar al-Assad, Syria's president, over his role in the violent crackdown on protesters.
Mr Harvey's comments came after the ICC announced it would be seeking the arrest of Muammer Gaddafi, the Libyan leader, along with his son and intelligence chief, accusing them of crimes against humanity.
Britain has so far not called for Mr Assad to step down, but has demanded his regime halt its violence.
The minister's comments came as Syrian activists reported the discovery of a mass grave outside the town of Dera'a, which has been the focus of an intense military crackdown.
Video footage was circulated on YouTube on Monday apparently showing several corpses unearthed from the ground near the town. According to Radwan Ziadeh, a human rights advocate and scholar at the George Washington University in the US, the footage was taken on Monday morning near Dera'a. He said many other bodies were buried in the same site, including five members of the same family.
The army sent tanks into Dera'a on April 25, and communications with the town have since been cut off for most of the time.
It is not possible to independently verify the authenticity of the footage, but persistent reports have surfaced from Dera'a of a high level of killing and of bodies being taken away by security services.
Syrian tanks were reported to have entered an area near the Lebanese border on Monday. Twelve people have been killed by the army in the border town of Tel Khalakh, say activists.
Syrian media said armed groups in the area killed five soldiers.
Syria has been rocked by 2 months of unprecedented popular protests against corruption, the security services, and, increasingly, the regime itself. The government initially offered concessions, dismissed by most analysts as cosmetic, and then pursued a strategy of overwhelming force, killing over 700 and arresting thousands.
After the crackdown failed to stop protests, however, the regime now appears to be hoping to pursue a negotiated solution, announcing on Friday that it would hold a "national dialogue."
The White House accused the Syria on Monday of inciting deadly border clashes between Israeli troops and Palestinian demonstrators, saying Damascus was trying to distract attention from its own violent crackdown on protests.
White House spokesman Jay Carney expressed regret for the loss of life in confrontations on Israel's frontiers with Syria, Lebanon and Gaza on Sunday but said the Jewish state "has the right to prevent unauthorised crossing at its borders".
"We urge maximum restraint on all sides," Carney told reporters on Air Force One as Barack Obama, the US president, flew to Tennessee. FT