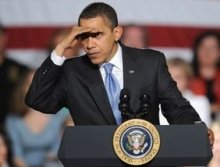 The White House is blaming Syria for inciting deadly protests across its border and into the Israeli-held Golan Heights.
White House press secretary Jay Carney said Monday such behavior on the part of Syria is unacceptable. He said it was intended to draw attention from the Syrian government's violent crackdown on its own people who are pushing for reforms.
Syrian President Bashar Assad's security forces have tried to crush an uprising against his regime with gunfire, sieges and shelling.
Carney's comments come after Palestinian mass marches toward Israeli borders that led to armed clashes and multiple deaths on Sunday. Carney said Israel has the right to defend its borders and that its neighbors have a responsibility not to prompt such clashes. He called for restraint on all sides.