UNIFIL chief urges restraint along Israeli-Lebanese border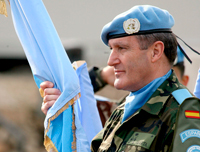 UNIFIL commander General Alberto Asarta on Sunday issued a statement calling on the relevant parties to exercise restraint following the violence along the Israeli-Lebanese border near the village of Maroun al-Ras.
"There is a need for practical security steps to be taken on the ground," the statement quoted him as saying.
"I am confident that our efforts will help in calming the situation and preventing any other action along the Blue Line."
The statement added that the UNIFIL is ready to support the Lebanese Armed Forces (LAF) in accordance with UN Security Council Resolution 1701.
At least 10 pro Palestinian protestors were reportedly killed amid rallies taking place in Maroun al-Ras village to commemorate the Palestinian nakba day.
May 15 marks the "Nakba Day." Nakba, meaning catastrophe in Arabic, and marks the period when more than 700,000 Arabs were displaced from their homes during the fighting following the creation of Israel in 1948.
Also on Sunday, Syrian security forces opened fire on civilians fleeing the border into northern Lebanon, wounding five people and killing one woman.
Israeli troops also opened fire Sunday on more than 1,000 Palestinians marching on the northern Erez Gaza crossing with Israel, wounding at least 52 people, according to medics and an Agence-France Presse correspondent.
Meanwhile, Israeli troops on the Golan wounded at least 10 people as they fired live rounds and tear gas Sunday at protesters who broke though from the Syrian-held side of the plateau, medics and defense sources said.
Israeli media reported at least one dead and several wounded but there was no immediate confirmation of the toll, in one of the worst incidents for decades along a ceasefire line that has been quiet since a 1974 truce accord.
Several million Palestinians who are living in refugee camps in various countries have urged the United Nations for the right to return, a demand Israel refuses to accept.