Ahmadinejad Fires 3 government Ministers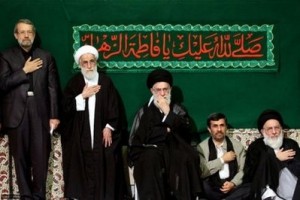 Iranian President Mahmoud Ahmadinejad asked three government ministers, including Oil Minister Masoud Mir-Kazemi, to step down as part of plans to combine some ministries.
The responsibilities of Mir-Kazemi, as well as Industry and Mines Minister Ali Akbar Mehrabian and Welfare Minister Sadegh Mahsouli, have ended, Ahmadinejad said in separate letters published on the Tehran-based presidency website today.
Iran announced May 9 that the oil ministry will merge into the energy ministry to help reduce the number of departments to 17 from 21 and boost the administration's efficiency. The Industries and Mines Ministry will be combined with the Commerce Ministry and the Welfare Ministry with the Labor Ministry.
Ahmadinejad's government will need to nominate ministers for the combined ministries to parliament, senior parliamentary member Hossein Sobhaninia said last week.
Bloomberg
Photo: In this photo released by the official website of the Iranian supreme leader's office, Iranian supreme leader Ayatollah Ali Khamenei (C), Iranian former judiciary chief Mahmoud Hashemi Shahrudi (R), Iran's President Mahmoud Ahmadinejad (2nd R), Iranian Guardian Council head Ahmad Janati (2nd L), and Iranian Parliament Speaker Ali Larijani (L) gather during a religious ceremony in Tehran