Hariri instructs Lebanese authorities to assist Syrian refugees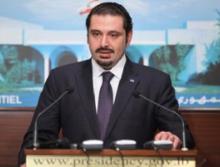 Caretaker Prime Minister Saad Hariri instructed on Saturday various Lebanese authorities to "coordinate efforts relating to the assistance of refugees from Syria."
According to a statement from his office, Hariri instructed the Higher Relief Council to coordinate with the International Red Cross and other organizations to assist refugees from Syria, particularly the wounded reported to have arrived in the northern Akkar region.
Refugees have fled across the Lebanese-Syrian in recent weeks as the regime has launched a crackdown against the protests that have rocked the country since mid-March.
Three people were killed on Saturday after Syrian troops and gunmen entered the town of Tel Kelakh , a rights campaigner said, and hundreds fled what they said was fierce fighting into neighboring Lebanon.
One of the three who died had been evacuated to Lebanon from the border town of Tel Kelakh, where fleeing residents reported seeing soldiers and black-clad gunmen loyal to Assad, and said they heard the sound of machine gun fire.
"There was a peaceful demonstration in Tel Kelakh yesterday but today there are clashes," said one woman who fled the restive town for Lebanon, declining to give her name.