British, Italian embassies attacked in Tripoli
The British and Italian embassies were attacked and damaged by angry mobs in the Libyan capital Sunday, hours after a NATO airstrike was reported to have killed one of Moammar Gaddafi's sons and three of his grandchildren.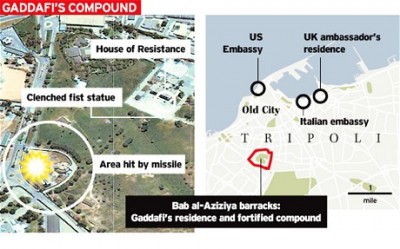 Britain responded to the attack on its embassy and ambassador's residence by expelling the Libyan ambassador to London. The United Nations announced it was withdrawing its international staff from Tripoli.
A State Department spokesman said U.S. officials had "seen reports" of attacks on the U.S. embassy but had no independent confirmation.
"If we true, we condemn these attacks in the strongest possible terms," spokesman Mark Toner said in Washington. By failing to protect foreign embassies, the Libyan government had "once again breached its international responsibilities and obligation," Toner said.
Meanwhile, Libyan government forces unleashed a barrage of their own, in what rebels called a "major attack" of shelling on the port of the besieged city of Misurata.
"It was an unbelievable attack on the port, with hundreds of rockets," rebel spokesman Mohamed Ali said via Skype, adding he was still gathering information on casualties.
The Libyan government had tried to lay anti-ship mines in Misurata harbor Friday and threatened to attack any ships entering Misurata port, including those carrying humanitarian aid, because rebels also are using the port to bring in arms, ammunition and weapons.
The attempt to mine the harbor was condemned by NATO as a violation of humanitarian law. Meanwhile in Moscow, Russia condemned NATO's Saturday airstrike on Tripoli, with the foreign ministry describing it as a disproportionate use of force.
Russia questioned NATO's assertion that the alliance was not targeting Gaddafi or members of his family and called for "an immediate cease-fire and political settlement," the Associated Press reported. Venezuelan President Hugo Chavez, an ally of Gaddafi, also condemned the strike.
The Libyan government said Gaddafi's son Saif al-Arab, 29, was at a gathering of family and friends when three missiles struck the family house just after 8 p.m. Saturday, causing huge explosions that could be felt more than two miles away.
The Libyan leader and his wife, Safiyah, were at the home but escaped unharmed, government spokesman Moussa Ibrahim said, describing the attack as an assassination attempt.
In Brussels Sunday, NATO spokeswoman Carmen Romero said the reported death of Gaddafi's relatives remained unconfirmed.
"We targeted a military command and control building with a precision strike," Romero told the AP. "It was not targeted against any individual. It was a military target, clearly linked to the Gaddafi's regime's systematic attacks on the civilian population."
The White House on Sunday referred all questions about Saturday's airstrike to NATO headquarters. But a White House official said the president does not review target lists in advance.
Emotions rose in Tripoli on Saturday and Sunday. A Foreign Office spokeswoman told AP the British embassy buildings, which include the ambassador's residence, had been almost completely burned down, with only the shells remaining. She said the buildings had been "ransacked, vandalized and completely destroyed."
British Foreign Secretary William Hague condemned the attacks and said Libya had breached its international obligation to protect diplomatic missions in Tripoli.
"As a result, I have taken the decision to expel the Libyan ambassador," he said, noting that the official, Omar Jelban, had 24 hours to leave Britain. "The attacks against diplomatic missions will not weaken our resolve to protect the civilian population in Libya."
The Italian foreign ministry said in a statement "there were attacks of vandalism against the buildings of a number of foreign embassies in Tripoli, including the Italian embassy."
In February Britain announced that it had closed its embassy in Tripoli and evacuated embassy staff because of the "deteriorating situation" in Libya. Then in March, Britain expelled five Libyan diplomats in protest of the Libyan authorities' actions and because they could pose a threat to national security.
Ibrahim, the Libyan government spokesman, said the NATO attack was neither permitted under international law nor morally justifiable, and that it contravened NATO's mandate under Security Resolution 1973 to protect Libyan civilians. Intelligence about Gaddafi's whereabouts or plans must have been leaked to NATO, he speculated. "Is it satellite technology, is it some listening devices?"
Reporters were taken to the residence predawn Sunday and again in daylight hours. There were no obvious signs of military command and control facilities, but there were clear signs that the buildings were being used as a residence at the time of the attack.
In a kitchen, rice, pasta, fish and stuffed peppers lay on a stove, with a wall clock stopped at 8:08 p.m., the time of the attack. In the building, which took a direct hit, women's dresses were buried in the concrete debris and dust, while an mounted elephant's tusk was visible.
Onlookers traipsed through the ruins, and a busload of women brandishing portraits of Gaddafi arrived to chant slogans, shouting that foreign journalists were "liars." Outside, a car slowed down and its passengers shouted that the foreign press were "dogs". Gaddafi's regime says foreign press have not reported the truth about the support he enjoys among ordinary Libyans, and government minders openly tell reporters they are to blame for NATO airstrikes and the deaths of Libyan children.
Hours before Saturday's attack, Gaddafi had called for a cease-fire and negotiations with NATO, but refused to surrender power. Even as he spoke in a televised address, alliance warplanes struck a government complex in the capital.
Ibrahim said NATO's response was proof that it was not interested in peace or in protecting civilians.
A Russian lawmaker who often serves as a mouthpiece for the Kremlin's views on foreign affairs, criticized the airstrikes, according to the AP report.
"More and more facts indicate that the aim of the anti-Libyan coalition is the physical destruction of Gaddafi," Konstantin Kosachyov, who heads the lower house of parliament's international affairs committee, was quoted as saying.
Kosachyov called on Western leaders to make their position on the airstrikes clear. "I am totally perplexed by the total silence from the presidents of the United States, France, the leaders of other Western countries," Kosachyov said in an interview, according to the Interfax news agency. "We have the right to expect their immediate, comprehensive and objective assessment of the coalition's actions."
Russia abstained in the March vote in the U.N. Security Council that authorized the use of force in Libya to protect civilians.
Saif al-Arab, not to be confused with his higher-profile elder brother Saif al-Islam, had yet to complete his studies in Germany. He had kept a lower profile than most of his brothers, but was briefly in the spotlight in 1996 when he brawled with a nightclub bouncer in Munich.
The announcement of his death brought back memories of the U.S. airstrike in Tripoli in 1986 that killed a baby named Hanna. Gaddafi claimed she was his adopted daughter, but many believe he adopted her posthumously to solicit global sympathy.
The U.N. resolution that authorized the military campaign against the Gaddafi government does not specifically permit strikes intended to kill the Libyan leader or members of his inner circle. While NATO bombs have repeatedly hit government facilities in the Libyan capital, including office buildings used by Gaddafi, NATO and U.S. officials have said the intended targets were command-and-control facilities, and not the Libyan leader or his sons.
But U.S. and European officials have acknowledged seeking to increase pressure on top Libyan officials in hopes of encouraging defections or perhaps even persuading Gaddafi to step down. U.S. congressional leaders in recent days have urged NATO to be more aggressive, and some have urged the alliance to target Gaddafi himself.
A week ago, NATO jets launched two guided bombs into the Bab al-Aziziyah complex in Libya, part residence for Gaddafi, part government offices and part military base. No one was seriously hurt.
The White House denied that the strike was intended to kill Gaddafi and said it was not coalition policy to "decapitate, if you will, or to effect regime change in Libya by force."
WP