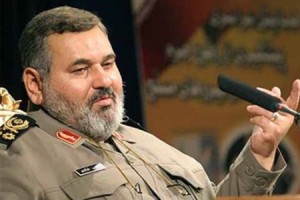 A top Iranian military officer on Saturday denounced what he called an "Arab dictatorial front" and claimed that the "Persian Gulf has belonged to Iran for ever", media reports said.
"The Arab dictatorial regimes in the Persian Gulf are unable to contain the popular uprisings," General Hassan Firouzabadi, the chief of staff of Iran's armed forces, was widely quoted as saying by Iranian media on Saturday.
"Instead of trying and failing to open an unworkable front against Iran, these dictators should relinquish power, end their savage crimes and let the people determine their own future," Firouzabadi said.
He also denounced "plots" by the Gulf Arab petro-monarchies to "carve out an identity for themselves by rejecting the identity of others," referring to Iran.
"The Persian Gulf has always, is and shall always belong to Iran," the general said.
Firouzabadi, speaking on the annual "National Day of the Persian Gulf", also condemned the regional Arab monarchies for refusing to call the waterway between Iran and its Arab neighbours by its "historical name."
"With the arrival of the British and later the Americans in the region, plots were hatched to try and change the name with fake identities… to distort the history and identity of the Persian Gulf," Firouzabadi said.
Relations between Iran and its Gulf Arab neighbours have deteriorated sharply, with the latter accusing Tehran of seeking to destabilise Arab regimes in favour of popular unrest that has erupted in many Arab countries.
Shiite-dominant Iran has strongly criticised Saudi Arabia's military intervention in Sunni-ruled Bahrain aimed to help crack down on a Shiite-led uprising there.
Iran says it gives "moral support" to Bahrainis but is not involved in the protests there.
Bahrain and Kuwait have in turn expelled Iranian diplomats, accusing them of espionage.
Iran has in the past claimed Bahrain as part of its territory, and it controls three islands in the southern Gulf that are also claimed by the United Arab Emirates. Zawya