Aoun, Hezbollah reveal conditions for cabinet formation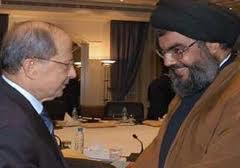 According to a report by al Sharq newspaper Free Patriotic Movement leader MP Michel Aoun is ready to give up on his demand for the ministry of Interior if General Fayez Karam is released from jail.
The newspaper also reported that Hezbollah is willing to facilitate the process of cabinet formation if Internal security chief general Ashraf Rifi is fired from his position and transferred to the diplomatic corp.
Karam, a senior Free Patriotic Movement (FPM) official, was arrested by the Internal Security Forces (ISF) – Information Branch last August and was charged with espionage and providing Israel with information on Hezbollah, FPM leader Michel Aoun's closest ally.
Hezbollah reportedly knew that Karam, was collaborating with Israel from the moment he was arrested last August , an Arab diplomat told Al-Balad newspaper in an interview published last October 22.
"Hezbollah did not bring up the issue of Karam publicly because it took into account its alliance with FPM leader MP Michel Aoun," the diplomat said.
Karam and Aoun went into exile in France following Aoun's defeat by the Syrian army in 1990 and both returned to Lebanon in May 2005 , 11 days following the withdrawal of the Syrian army from Lebanon.
One of the reasons that Hezbollah reportedly wanted Aoun to take over the ministry of interior was to fire Rifi who is considered closely linked to outgoing PM Saad Hariri
Nagib Mikati was appointed in January as the PM designate with the backing of the Hezbollah-led March 8 alliance , MPs Walid Jumblatt and Mohammad Safadi . March 14 leaders have repeatedly stated that intimidation from Hezbollah's weapons helped secure the parliamentary majority for Mikati's nomination.
Jumblatt and his PSP parliament members reportedly switched allegiance to Hezbollah's PM candidate, following threats by Hezbollah.
Jumblatt, Mikati and Safadi were all elected on March 14 electoral tickets during the 2009 parliamentary elections.
March 8 is now claiming the parliament majority .
According to observers , up until now Hezbollah has been hiding behind FPM leader Michel Aoun in creating obstacles for Mikati .