12 Syrians killed during Good Friday mass protests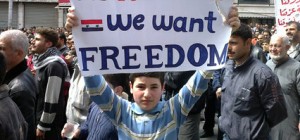 Security forces opened fire on demonstrators during mass protests in Syria on Friday, with witnesses reporting eight dead in the Damascus suburb of Douma and four killed in Homs.
This comes as thousands Syrian protesters defiantly marched after weekly Muslim prayers, another showing of mass discontent toward the government.
An opposition leader in Homs confirmed four deaths and more than 30 injuries as security forces fired on demonstrators. Protesters raced from the main streets for cover, but have taken refuge in smaller streets and alleys and are waiting for the atmosphere to calm. An eyewitness said one of those slain was a 41-year-old demonstrator who was shot in the neck.
A witness in Douma said eight people died and around 25 others were injured when security forces opened fire on several thousand protesters. Riot police and secret police comprised the security forces and a sniper on a hospital roof was seen taking shots at people. Pellets and lethal rounds were used, the witness said, as people chanted for the downfall of the regime.
Activist Razan Zaitouneh in Damascus said security forces in the suburb of Sit Zainab opened fire on demonstrators tearing down a statue of Hafez al-Assad, the president's late father and former ruler of Syria.
She said three people were wounded when security forces opened fire in Hasaka in the northeast.
An activist in Harasta in the south said 2,000 to 3,000 people met with a fierce crackdown by security forces, and heavy gunfire could be heard on the phone as a spoke to the eyewitness.
Witnesses reported demonstrations in the capital of Damascus, where people chanted slogans and tear gas was fired amid a moderate security presence. In the southern city of Daraa, where the protests got their start last month, people shouted "dignity and freedom."
Amateur video obtained by CNN purportedly shows demonstrations in Homs, Damascus, Banias, Kiswah, and Qamlishi. CNN cannot independently confirm the authenticity of the material.
There was no immediate comment from the government about the gatherings.
There have been daily demonstrations across Syria for weeks and huge rallies have been common in the authoritarian state after Friday prayers across the predominantly Muslim nation. As people gathered to express their grievances toward the government, they've frequently been greeted with police force.
Amnesty International says the death toll has exceeded 228 since the demonstrations began in mid-March.
Human rights groups have been urging the government to refrain from cracking down on peaceful turnouts during what is a Facebook-inspired outpouring dubbed "Great Friday."
The turnouts come a day after President Bashar al-Assad lifted the country's 48-year-old state of emergency and abolish the state security court, both key demands of demonstrators who've taken to the streets.
"It is imperative that these demonstrations are policed sensibly, sensitively and in accordance with international law to avoid further bloodshed on Syria's streets," Malcolm Smart, Amnesty International's director for the Middle East and North Africa, said on Thursday.
"These 'Great Friday' protests could be the largest yet. If government security forces resort to the same extremely violent tactics they have used over the past month, the consequences could be exceedingly grave."
Human Rights Watch also called on authorities "to permit Syrians to exercise their right to peaceful assembly" on Friday.
It said the president's decision to lift the state of emergency "will only be meaningful if Syria's security services stop shooting, detaining and torturing prisoners," Joe Stork, deputy Middle East director at Human Rights Watch said on Thursday.
The group says it has "documented a regular pattern of arbitrary detention of protesters, activists and journalists, many of whom have been tortured and mistreated."
The emergency law permitted the government to make preventive arrests and override constitutional and penal code statutes. The security court was a special body that prosecuted people regarded as challenging the government.
Al-Assad's decrees on Thursday also included recognizing and regulating the right to peaceful protest. They also extended the period that security forces can hold suspects in certain crimes.
Human Rights Watch says the decrees don't "address the extensive immunity that Syrian law provides to members of its security services."
It urged al-Assad to undertake more change, such as releasing political prisoners and those arrested for peaceful protests, order probes in security force violations, ensure detainees "prompt access to a lawyer," and amend repressive provisions of the penal code.
It said the government, which is controlled by the Baath Party, should "enact a political parties' law in compliance with international human rights norms." Such a law would allow the establishment of independent political parties.
"The Syrian people want real reforms, and such reforms cannot take place as long as Syria's security services are above the law and can violate people's basic rights at will," Stork said. CNN