Berri: Lebanon will pay the price of instability in Syria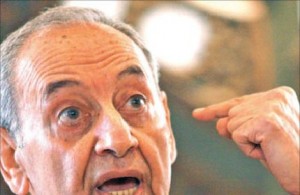 Lebanon Speaker Nabih Berri warned on Wednesday against betting on unrest in Syria."The first to pay the price for any instability in Syria are the Lebanese people," the speaker was quoted by National News Agency as saying.
"No one should play with fire …Lebanon's interests reside in having stability in Syria," he added.
Berri , a key ally of the iranian and Syrian backed Hezbollah militant group echoed the same remarks that MP Walid Jumblatt made on April 18.
In his editorial in the Anbaa weekly newspaper Jumblatt said whoever in Lebanon is betting on instability in Syria is an act of madness.
Jumblatt said history , geography and the Taif accord have proven all along that the stability and security of Syria and Lebanon are linked .
Berri also said that he did not receive any file or complaint in parliament regarding the Syrian statements accusing Future bloc MP Jamal al-Jarrah of inciting unrest in Syria.
"The parliament has no file on that issue until now, " he said .
Syrian President Bashar al-Assad has been facing the biggest challenge to his rule. Popular protests demanding greater freedoms and an end to corruption erupted over a month ago in southern Syria and spread to the capital Damascus and most cities in Syria. Last Friday witnessed the largest ever protest and there are reports pointing to more protests this coming Friday since the Christians were urged to participate on Great Friday.
Just like the Egyptian, Tunisian and Libyan regimes the Syrian regime has been blaming foreigners for the protests. Last week the Syrian regime accused a Lebanese Future movement legislator of funding and arming the opposition to fuel a wave of protests in the country, a charge that was repeatedly denied by the party and MP Jamal al Jarrah.
Jarrah met on Saturday with Berri over the Syrian allegations to inform him that he should be "punished" if the Syrian accusations against him turned out to be right.
"If the Syrian accusations against me were proven to be right, then I should be punished. But if they were proven wrong, then the parliament which I am a member of should safeguard my reputation," Jarrah told An Nahar before meeting with Berri