NLP: March 8 agenda places Lebanon in Syrian-Iranian axis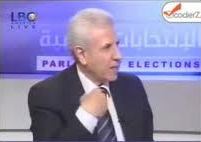 National Liberal Party ( NLP ) Secretary General Elias Abou Assi told MTV: The Hezbollah led March 8 camp's agenda deviates from Lebanese interests and places Lebanon in the Syrian-Iranian axis against the Arab world and international community.
The use of their weapons locally is the biggest concern. They lied to the Lebanese when they said that their arms will be used only against the enemy.
His comment comes after MP Dory Chamoun, NLP chief said Monday April 11 that Hezbollah never represented Lebanese politics "for it's a Persian party that is trying to hide behind Lebanese legitimacy . He also said that "he was not surprised that Hezbollah defended Iran and "its immoral practices in Lebanon and the Arab world."
He was referring to the speech of Hezbollah 's chief Sayyed Hassan Nasrallah last Saturday
Chamoun said on on Monday that Hezbollah receives financial and moral aid from Iran aimed establishing an Islamic republic in Lebanon.